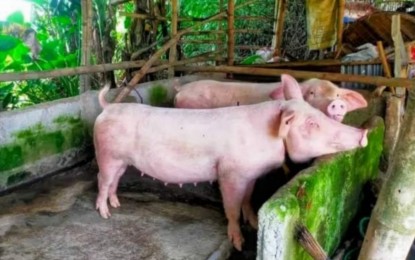 BACOLOD CITY – Negros Occidental province has logged 11,056 swine deaths, mainly due to hog cholera, with losses reaching PHP125.341 million, data from the Provincial Veterinary Office (PVO) on Thursday showed.
The data, which was collated until Wednesday afternoon, showed the mortalities represent 9.77 percent of the province's 113,107 total hog population.
Mayor Salvador Escalante Jr. of Cadiz City, which has reported 150 swine deaths and PHP1.8 million in losses, said on Thursday they plan to augment the financial assistance to be given by the provincial government to hog raisers in their city.
"I think the province will give PHP2,000 (for each household). Whatever we can add, we will provide to the affected hog raisers but we don't have yet a figure as of now," he told capitol reporters.
In Negros Occidental, swine deaths have been reported in five of its six districts, with the entire fourth district as the worst hit, including the municipalities of San Enrique, Valladolid, Pulupandan, Pontevedra as well as the cities of Bago and La Carlota.
All the district's six local government units (LGU) logged PHP101.445 million in total losses, the highest was reported in San Enrique at PHP29.773 million, with 2,642 swine deaths.
The mortalities represent 98.14 percent of the total hog population in the southern Negros town.
In Valladolid, losses were pegged at PHP29.71 million; Bago City, PHP29.97 million; Pontevedra, PHP12.38 million; Pulupandan, PHP7.98 million; and La Carlota City, PHP4.63 million.
On Wednesday, the Bago City Council approved a total of PHP16 million in cash aid for those with reported hog cholera cases.
Also reporting one of the highest losses is E.B. Magalona town in the third district, with PHP9.65 million due to 895 hog deaths.
The PVO report showed that 16 LGUs in Negros Occidental have reported swine deaths, affecting 2,088 raisers in 125 barangays.
Governor Eugenio Jose Lacson had earlier said the provincial government will provide financial aid to the hog raisers through the Department of Social Welfare and Development's Assistance to Individuals in Crisis Situation program. (PNA)