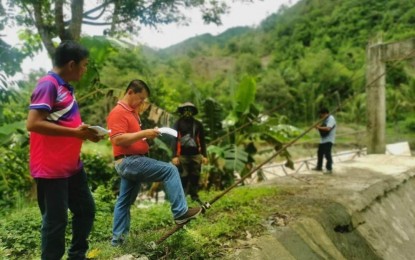 SAN JOSE DE BUENAVISTA, Antique – A two-day field validation for the proposed rehabilitation of infrastructures that were damaged by Severe Tropical Storm (STS) Paeng in 2022 was conducted in five municipalities of Antique.
The Regional Project Validation and Evaluation Team (RPVET) led by the Office of Civil Defense (OCD) conducted the validation in the municipalities of Patnongon, Laua-an, San Remigio, Sibalom and Belison on June 6-7, said Michael Tolentino, Local Disaster Risk Reduction and Management (DRRM) Officer III of the Antique Provincial DRRM Office in an interview on Thursday.
The rehabilitation of projects that were damaged by the weather disturbance which ravaged the province in October 2022 amounts to around PHP1 billion. They were submitted for funding under the STS Paeng Rehabilitation and Recovery Program.
Among the identified projects were the reconstruction of a box culvert with slope protection in Patnongon, the rehabilitation of a farm-to-market road in Laua-an, the reinforcement of bank and slope protection in San Remigio and the construction of a dike in Sibalom and the river bank flood control in Belison.
Tolentino said that the validation is necessary before the LGU proposals could be recommended for funding by National DRRM Council.
He added that other LGUs are also preparing their proposals but they still have to secure a geohazard assessment from the Mines and Geosciences Bureau (MGB) to ensure that the projects are in the safe zone to be submitted together with their program of works.
"The LGUs of Valderrama, Culasi, and Barbaza are now preparing their proposals for submission also under the second batch," Tolentino said.
Joining the OCD in the validating team were representatives from the Department of Public Works and Highways, Department of Agriculture, National Economic and Development Authority, Department of Environment and Natural Resources, Department of the Interior and Local Government and MGB. (PNA)