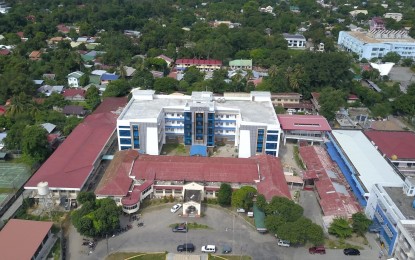 DUMAGUETE CITY – Negros Oriental Governor Manuel "Chaco" Sagarbarria announced on Thursday his plans that would improve the delivery of health services in the province.
In a press statement, Sagarbarria said he would implement a zero-bill policy at the Negros Oriental Provincial Hospital (NOPH) and in all district and community primary hospitals in the province.
"I intend to implement a zero-balance billing. It is very hard to do but I will implement it," Sagarbarria said, referring to a government policy that ensures that qualified members of Philippine Health Insurance Corp. (PhilHealth) shall not be charged or be forced to spend out of pocket for services rendered to them in government hospitals.
The governor will also purchase new medical equipment and facilities for the various hospitals to upgrade the provincial government's health services.
This includes the plan to purchase 20 to 30 dialysis machines through the PHP100 million fund allocated by then-governor Roel Degamo for NOPH.
At present, the provincial hospital only has six dialysis machines and Sagarbarria said he would look into the possibility of giving the dialysis procedures for free.
He added that while he would push for the upgrade of the equipment, he would also prioritize the procurement of medicines.
"My goal is to implement good programs planned by previous governors. I will continue their programs and add my program," he said.
Sagarbarria also hinted that he might impose organizational changes in the leadership of NOPH and the Provincial Health Office.
He also promised to review the ongoing construction of the Community Primary Hospital in Barangay Dobdob, Valencia, which the late Degamo had started early this year.
The hospital sits on Tamlang Valley, a former "no man's land" due to the communist insurgency, which straddles the boundaries of Valencia, Sta. Catalina, and Pamplona.
Sagarbarria pledged to continue the project, which is seen as one of the many government interventions at the provincial level under the whole-of-nation approach to End Local Communist Armed Conflict (ELCAC).
The governor chairs the provincial Task Force - ELCAC. (PNA)