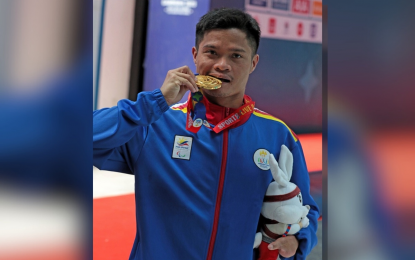 PHNOM PENH, Cambodia – Swimmers Angel Mae Otom and Ernie Gawilan are hoping to draw inspiration from their brilliant showing at the 12th ASEAN Para Games here as they prepare for the 11th World Para Swimming Championships in Manchester, United Kingdom next month.
Otom delivered four gold medals while Gawilan added two gold, one silver and one bronze medals for Team Philippines, which has duplicated its 28-gold performance last year in Surakarta, Indonesia.
"I am super happy for my performance here in Cambodia," said Otom, who has a congenital upper limb deficiency. She ruled the 50m backstroke, 50m butterfly, 50m freestyle in the S5 category anew. Her fourth gold came from the 200m Individual medley.
Otom is also excited to perform in UK, saying, "I am looking forward to compete against world-class swimmers. I will do my best."
Gawilan, on the other hand, is satisfied with his two-gold (400m freestyle and 200m Individual medley), two-silver (50m and 100m butterfly) and one bronze (100m backstroke) output in the S7 category -- his best performance in seven ASEAN Para Games appearances.
"Even if I'm 32 years old, my strength is like a 20-year-old. There's a little change, but it's okay because I was able to defend the 200m butterfly and the 200m IM. I'm happy," said the native of Davao City.
"The world's best swimmers will be in Manchester, it's a very tough competition. I hope I can come up with good results," added Gawilan, who saw action in the Rio (2016) and Tokyo (2020) Paralympics.
Otom and Gawilan earned the UK trip through the Minimum Qualifying Standard (MQS) and Minimum Entry Time (MET) set by the World Para Swimming during the Citi Para Swimming World Series held in Singapore from April 29 to May 1, 2023.
Meanwhile, Ariel Joseph Alegarbes settled for the silver medal in the men's 50m freestyle S14 on Thursday to cap the national swimming team's campaign with 10 golds, nine silvers and seven bronzes.
Alegarbes, the opening ceremony flag-bearer of Team Philippines, clocked 25.39s to finish second behind Malaysia's Bryan Sze Kai Lau, who erased the Filipino's old mark of 25.74 with a new Games record of 24.87s. Malaysian Ethan Yin Jun Khoo (26.10) placed third.
Gary Bejino (men's 100m freestyle S6) and Marco Tinamisan (men's 100m freestyle S4) also won silver medals in the morning events. (PNA)