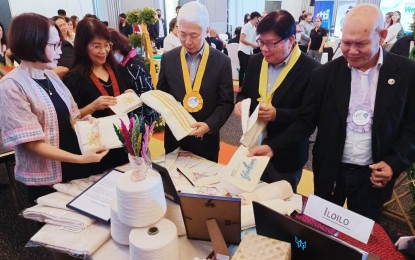 ILOILO CITY – The Department of Trade and Industry (DTI) launched on Thursday a platform that would link stakeholders in the weaving industry in Western Visayas to address gaps in innovation and entrepreneurship and upscale the regional industry clusters.
"The weaving industry holds immense potential for our region, and we are determined to maximize its growth and international competitiveness," DTI 6 (Western Visayas) OIC Director Ermelinda P. Pollentes said when welcoming guests during the launch of the Regional Inclusive Innovation Center (RIIC) branded as "Weave Philippines" at the Park Inn by Radisson in Iloilo City.
Pollentes noted that through collaborative efforts with the academe, they have developed "cutting-edge textile digital applications" that would revolutionize the way they design, create, and market woven products.
It was presented alongside the activation of the region's Integrated MSME (micro, small and medium enterprise) Management Information System (iMMIS), a comprehensive database management system for the efficient collection, organization, and analysis of information about MSMEs.
DTI Secretary Alfredo E. Pascual, in his message, said the two initiatives are proud symbols of the current administration's "unwavering commitment to propel industrialization" in the Philippines.
"Centers like WEAVE Philippines bring together a network of creative, innovative, and entrepreneurial Filipinos driven by the desire to do things better and to respond to market needs with their products and services. What I find interesting about R6 RIIC is the fact that it is spread out to the different provinces in the region. That's another, I would say, innovative approach to reaching out to our MSMEs, again another model to follow," Pascual said.
He challenged the regional DTI office to go beyond the production of specialty garments and introduce innovations on how to mass produce.
He added that specialty garments, while good for the export market, may not be within the reach of many Filipinos because they tend to be expensive.
Pascual, in a follow-up interview, said he would coordinate with the Department of Agriculture to address the need for raw materials, particularly cotton.
He said production should also be improved to meet the demand of the export market.
Side by side the launch was an exhibit of various woven products from the six provinces of Western Visayas.
Meanwhile, 48,000 businesses in the region registered from January 2022 until June 7, are already on board the iMMIS.
"iMMIS will provide us with valuable insights and a deeper understanding of the challenges and opportunities faced by our MSMEs. With this information, we will be able to formulate targeted policies and strategies that will drive further their growth and success," Pollentes said. (PNA)