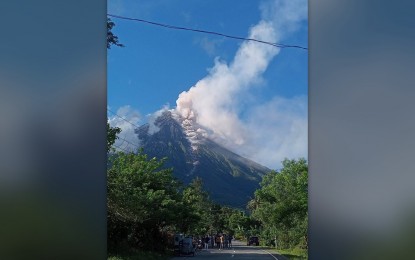 LEGAZPI CITY – The Albay Provincial Disaster Risk Reduction and Management Council (PDRRMC) on Thursday ordered the evacuation of residents in areas surrounding Mayon Volcano in order to protect lives and properties due to its increased activity.
This, as the Philippine Institute of Volcanology and Seismology (Phivolcs) raised Mayon Volcano's alert level to 3.
In a briefing on Thursday afternoon, Eugene Escobar, Albay Public Safety Emergency Management Office (APSEMO) research division chief, said the evacuation order is meant to sustain the zero casualty goal of the province of Albay.
"Again, because of the alert level 3 status, our goal is to sustain the zero casualty of the province of Albay and this can only be achieved if we will be able to execute the evacuation of the population. So for the information of everybody, based on the previous arrangement and contingency plan for Mayon Volcano, upon declaration of alert level 3 by the Phivolcs, mandatory evacuation of all population inside the six-kilometer permanent danger zone (PDZ) will be executed. No human activity inside the 6-km PDZ," Escobar said.
Based on APSEMO data, at least 4,749 families or 18,184 individuals from 50 affected barangays will be evacuated starting Friday.
"The advisory will be released today, but the start of the evacuation will be tomorrow (Friday) morning. We need to do it systematically, organized and we will have enough time to serve evacuation. So the evacuation from the 6-km PDZ starts tomorrow until two days," Escobar said.
Alvin Cuz, Department of Education (DepEd)-Albay DRRM focal person, said they are now coordinating with local government units (LGUs) affected by the increased activity of Mt. Mayon.
"We have 39 schools that can be used as evacuation centers depending on the LGUs if they will use it. If the LGUs will use the schools, temporary learning spaces will be needed," he said.
Cuz said no suspension of classes will be declared on the receiving schools and a blended learning modality will be used.
Meanwhile, the Regional DRRMC raised a red alert status in its emergency operations center.
Office of Civil Defense (OCD) and Bicol DRRMC chairperson Claudio Yucot said the highest alert status is effective immediately in view of the increasing activity of Mayon.
"All response assets must be ready for deployment. Evacuation for high-risk areas and barangays shall be led by the local DRRMCs. Close monitoring of the respective area of responsibilities," Yucot said.
Phivolcs on Thursday raised Mayon Volcano's status from Alert Level 2 (increasing unrest) to Level 3 (increased tendency towards hazardous eruption) due to the continuous increase in its rockfall events.
The repeated collapse of the growing summit dome of Mt. Mayon has generated an increasing number and volume of rockfall events since June 5 when the alert status was raised to Level 2 from 1, the Phivolcs said in an advisory.
From June 5-8, Phivolcs recorded 267 rockfall events and two volcanic earthquakes. There were 54 rockfall events from June 1-4.
"These events had durations of 1-3 minutes and transported lava debris within a kilometer range of the southern upper slopes. The volume of discrete rockfall events increased on 3 June based on the seismic record, signaling an increase in the rate of dome growth," the advisory read.
Phivolcs added that three pyroclastic density currents (PDC) that lasted four to five minutes were observed on the Bonga and Basud Gullies at 6:18 a.m., 9:53 a.m. and 11 a.m. Thursday. (PNA)