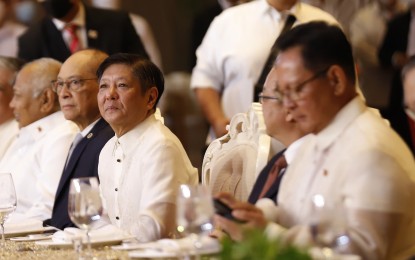 MANILA – The Philippines' "healthy" and "deepening" relationship with China outweighs the two nations' differences, President Ferdinand R. Marcos Jr. said on Thursday.
In a speech delivered at the Manila Hotel, Marcos said the Philippines is committed to strengthening its bilateral ties with China, given that it has become a "boon to our country's economic strength over the past years."
"It is my firm belief that our relationship must not be defined by our innate differences," Marcos said during the Award for Promoting Philippines-China Understanding (APPCU) awarding ceremony.
"There is a lot more that we can and must do to celebrate our bilateral ties. Time and again, we have proven that it is in our mutual interest to preserve the special rapport and kindred spirit that we have established and nurtured throughout our history," he added.
Marcos made the statement, as he acknowledged China as the Philippines' "top partner" in terms of total trade, ranking first as imports source and second as exports destination.
He also noted that China and its special administrative regions serve as "second home to a substantial number of overseas Filipinos."
"So, we will exert utmost efforts to strengthen this relationship. We will strive to make it more comprehensive, more strategic, all with the view to advancing the paramount interest of both our nations and our peoples," Marcos said.

'Continuing' communication
Marcos denied that the Philippines has shifted away its policy away from China, saying that his administration continues to foster the friendship, the relationship and the partnership with Beijing.
"Some people have said that the Philippines has shifted its policy away from the People's Republic [of China] and to other powers. That is certainly not true. We have not shifted away from China in any way whatsoever," he said.
He noted that the Philippine government has a "continuing" communication with the Chinese government following his state visit to China in January this year upon the invitation of Chinese President Xi Jinping.
He said he and Xi are both determined to find solutions to various issues confronting the two countries, including the South China Sea disputes.
"Slowly, the process that we began after my visit to President Xi and to China in January, we have developed those concepts of communication [on] the issues about the fishing grounds. All of these things are continuing and perhaps soon, we will be able to report. So, this is the way that we strengthen this relationship that we have with China," he said.
"That continues. Whatever else happens, this relationship again will not be defined by the differences but by our common areas of interest and our common beliefs and the similarities in our culture which both countries will understand very well. I think that is a very fertile ground to build, to plant our relationship and keep it growing," Marcos added. (PNA)