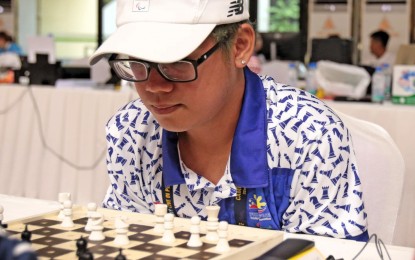 PHNOM PENH, Cambodia – Team Philippines amassed 34 gold medals to end its successful campaign in the 12th ASEAN Para Games here on Friday.
With Darry Bernardo, Cheyzer Crystal Mendoza and Sander Severino winning two gold medals each in chess matches at the Royal University on Thursday, the Philippines has surpassed its 28-gold performance in Surakarta, Indonesia last year.
Bernardo, who is visually impaired, won the men's individual B2-B3 and team with Arman Subaste and Menandro Redor.
Mendoza, a lawyer by profession, ruled the women's individual blitz PI and team with Cheryl Angot and Jean-Lee Nacita.
The wheelchair-bound Severino, a former world champion, topped the men's individual and team with Felix Aguilera and Henry Lopez.
The James Infiesto-mentored chess team had a total of 13 golds, improving its 10-gold harvest last year.
The team also produced the top two most bemedalled athletes in the PH contingent, with Bernardo pocketing six golds and Mendoza contributing five.
Angel Mae Otom secured four gold medals for the swimming squad, which bagged 10 gold, 10 silver and 11 bronze medals to finish sixth, behind Thailand (34-29-33), Vietnam (28-19-26), Indonesia (27-37-24), Malaysia (26-12-10) and Singapore (11-10-8).
Aside from 34 golds, the Philippines also brought home 33 silvers and 50 bronzes to finish fifth overall.
"I am honored and overjoyed to congratulate our athletes for their remarkable performances and astounding achievements in the 12th ASEAN Para Games. These achievements have not only brought glory once again to the Philippines but also serve as inspirations and motivations to future generations of para-athletes," Philippine Sports Commission (PSC) Commissioner and Team Philippines chef-de-mission Walter Francis Torres said on Friday.
"As we return home, remember that the results of these games will forever leave a mark on the sporting landscape of our country. You will continue to influence generations to overcome boundaries and limitations. On behalf of the entire nation, Congratulations!!! I salute you all for your remarkable performances and outstanding representation of the Philippines in the 12th ASEAN Para Games. You make us proud!," said Torres, a former national fencer.
A 50-member delegation composed of selected athletes and coaches from athletics, boccia, wheelchair basketball, sitting volleyball and table tennis will join the parade during the closing ceremony starting at 6 p.m. at the Morodok National Stadium.
Meanwhile, Indonesia collected 153 golds, 141 silvers and 93 bronzes to capture its third consecutive overall title. The Indonesians won 12 golds in table tennis, six in badminton and three each in chess and swimming in the final day of competition.
"We had come to Phnom Penh to win the 12th ASEAN Para Games crown for the third consecutive time and we've achieved our target, history is created," Indonesia's chef de Mission Andi Herman said in a statement.
Thailand, which will host the 2025 edition in Korat, settled for second place with 123 golds, 107 silvers and 92 bronzes followed by Vietnam (66-56-78) and Malaysia (47-38-35). Myanmar ranked sixth (15-23-19), Singapore seventh (12-15-17), Cambodia (9-18-43), Brunei (3-3-2), Timor Leste (2-0-0) and Laos (0-2-9). (PNA)