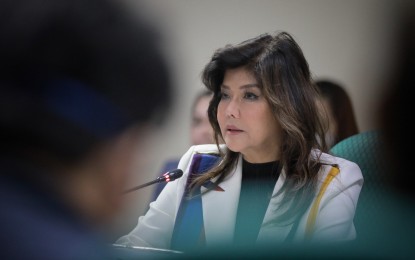 MANILA – Senator Imee Marcos on Friday urged newly appointed Defense Secretary Gilbert Teodoro and National Security Adviser Eduardo Año to explain the request of the United States to grant some Afghan refugees special immigrant status in the country.
Marcos, who chairs the Senate Committee on Foreign Relations, questioned the request asking why the US is choosing the Philippines instead of other countries
geographically much closer to Afghanistan or which are better-equipped to accommodate them.
"During the past year, security and espionage threats have substantially increased because of the sharp escalation in tension between rival superpowers," Marcos said wondering what the real intention and purpose of the US in making such a request.
Marcos filed Senate Resolution No. (SRN) 651 on Thursday calling for an inquiry into the request noticing that no data have been made public on the said Afghans' status as legitimate refugees, employees of the US government, or American companies.
"There's a lack of transparency in the present case," Marcos said comparing the previous administration's policy of accepting Afghan refugees when the Taliban took over their homeland in August 2021 following the withdrawal of American troops.
"We need to know the real nature of the agreement between the Philippines and the United States and the course of action the executive branch plans to take," she added.
SRN 651 states that a letter dated June 5, 2023 by the Presidential Management Staff was sent to various government agencies requiring them to attend a "Technical Coordination Meeting" on the "proposed temporary housing in the Philippines of Special Immigrant Visa applicants from Afghanistan".
Marcos said sources revealed to her that before the sending of the letter, the US had requested for the Philippine Government to allow the admission and temporary housing of foreign nationals from Afghanistan.
These foreign nationals, allegedly US supporters, will be transported directly into the country from Afghanistan.
According to the Philippine Immigration Act of 1940, the admission of refugees for religious, political, or racial reasons should serve a humanitarian purpose and not be opposed to the public interest. (PNA)