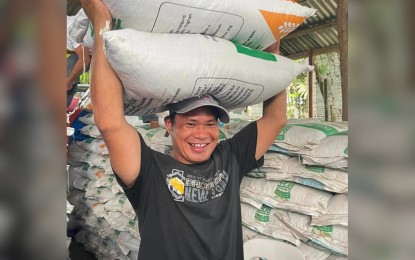 ILOILO CITY –The Department of Agriculture (DA) has already distributed 168,013 bags of inbred certified seeds under the Rice Competitiveness Enhancement Fund (RCEF) Seed Program benefiting 70,903 palay farmer-beneficiaries in Western Visayas in time for the 2023 wet season.
Rojen F. Austria, the RCEF focal person in Western Visayas, said that 430,197 bags of seeds have been allocated for more than 223,000 palay farmers from 133 local government units in Western Visayas.
The program has allocated 166,351 bags for Iloilo; 101,216 for Negros Occidental; Aklan, 31,976; Antique, 55,735; Capiz, 63,391; and Guimaras with 11,528 bags.
The distributed seeds based on the Rice Seed Monitoring System (RSMS) was 142,153 bags but based on the actual report, 168,013 bags were released as of the end of May, which is equivalent to 76 percent of the target seed allocation for the region, Austria said in an interview on Friday.
"The available data is as of the end of May but as of today, we are probably at 90 percent. We target to complete the distribution probably by July," he added.
Based on the actual report, 25,055 bags have been released to 10,998 farmer-beneficiaries in Aklan; 37,660 bags for 17,268 recipients in Antique; 9, 276 bags for 5,133 beneficiaries in Capiz; Guimaras received 5,667 bags for 2,241 farmers; Iloilo has 34,592 bags for 15,983 farmers and Negros Occidental received 55,763 for 19,280 recipients.
There is an ongoing distribution for 210,332 bags based on the RSMS data.
"The list of farmer-beneficiaries came from the Farmer and Fisherfolk Registry System at the central office," he added.
The number of bags they will receive depends on their rice area; those tilling half a hectare and below will have one bag, from 0.51 to one hectare is two bags and over two hectares up to five hectares will be 10 bags.
The seeds are sourced from seed growers in the region as well as from the regions of Cagayan Valley, Central Luzon, Mimaropa and Davao.
The Philippine Rice Research Institute (PhilRice) is in charge of the RCEF seeds that are being distributed with the help of local government units.
The RCEF is provided for under the Rice Tarification Law aimed at improving the competitiveness of farmers for an increased income. (PNA)