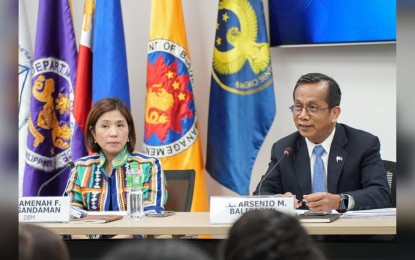 MANILA – The Philippine economy is expected to continue to grow despite the domestic and external risks to growth, economic managers said.
In a briefing on Friday, Budget and Management Secretary Amenah Pangandaman, also head of the inter-agency Development Budget Coordination Committee (DBCC), said economic managers retained the 6.0 to 7.0 percent for 2023 and 6.5 to 8.0 percent for 2024 to 2028 economic growth assumptions taking into account both domestic and external risks.
"These projections have already taken into account the risks posed by El Niño and other natural disasters, global trade tensions, and value chain disruptions, among other factors," Pangandaman said.
"The DBCC is confident that the country can withstand these risks and achieve upper-middle-income status in the next two years through the implementation of near- and medium-term strategies, such as ensuring timely and adequate importation, providing preemptive measures to address El Niño, strengthening biosecurity, enhancing agricultural productivity, and pushing for legislative reforms including the Livestock, Poultry, and Dairy Competitiveness and Development Act, among others," she added.
National Economic and Development Authority Secretary Arsenio Balisacan said the government recognizes that the current external environment is still not as good as they would like it to be.
"The forecast for the global environment is still on the downtrend and the performance of the [Philippine] economy in the first quarter is much more improved than what most of us anticipated," he said.
The Philippine economy grew by 6.4 percent in the first quarter of the year, faster than other developing and emerging economies, such as Indonesia, China, and Vietnam.
Balisacan however noted that "previous actions to tame inflation like high interest rates in the last year" are expected to affect economic growth for the rest of the year.
Since last year, the Bangko Sentral ng Pilipinas raised rates by a total of 425 basis points to bring down inflation.
Headline inflation which reached as high as more than 8 percent earlier this year however already started to decelerate, settling at 6.1 percent in May.
Due to the continued inflation slowdown for the past four months, the DBCC also narrowed the 2023 inflation rate assumption to 5.0 to 6.0 percent from the previous 5.0 to 7.0 percent.
Economic managers are confident that inflation rate will return to the government's 2.0 to 4.0 percent target range by 2024 until 2028 as the government, through the Inter-Agency Committee on Inflation and Market Outlook, provides proactive measures to address the primary drivers of inflation.
Taking into account all these factors plus the possible effect of the El Niño which the government described as not as bad as initially expected, Balisacan said "the 6 to 7 percent 2023 economic growth is very much manageable." (PNA)