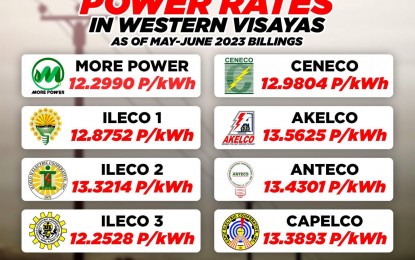 ILOILO CITY – Some 93,000 residential consumers in Iloilo City along with other industrial and commercial clients stand to benefit from the reduced power rates of distribution utility (DU) More Electric and Power Corporation (MORE Power).
The distribution utility, in a statement sent to the Philippine News Agency (PNA) on Friday, said the power rate for residential consumers for their May to June 2023 billing months is reduced by PHP0.9522 per kilowatt-hour (kWh) from the previous PHP13.2511 per kWh.
"The new rate stands at PHP12.2990 per kilowatt-hour (kWh), reflecting a noteworthy decrease of PHP0.9522 per kWh from the previous month's rate of PHP13.2511 per kWh," it said.
The rate is lower by PHP1.8522 per kWh when compared with the billing period in January this year.
MORE Power cited as factors for the decline the lower generation cost and reduced transmission charge.
The generation cost has decreased to PHP7.1182 per kWh or a reduction of PHP0.5362 per kWh while the transmission charge dropped by PHP0.1831 per kWh from PHP0.9057 per kWh in the previous month to PHP0.7226 per kWh this month.
"The positive trend of decreasing charges extends to the system loss charge as well. The system loss for the previous month was 7 percent while the 12-month average system loss stands at 6.49 percent. This reduction in system loss aligns with the decrease in generation and transmission charges, offering additional relief to consumers," said the statement.
The PHP12.2990 per kWh power rate is also one of the lowest among DUs in Western Visayas.
For the same billing period, the Iloilo I Electric Company (ILECO 1) has a power rate of PHP12.8752 per kWh, ILECO 2 charges PHP13.3214 per kWh, ILECO 3 has PHP12.2528 per kWh, all have franchise areas covering the province of Iloilo.
The power rate of the Central Negros Electric Cooperative (CENECO) stands at PHP12.9804 per kWh; Aklan Electric Cooperative (AKELCO), PHP13.5625; Antique Electric Cooperative (ANTECO), PHP13.4301; and Capiz Electric Cooperative, PHP13.3893 per kWh. (PNA)