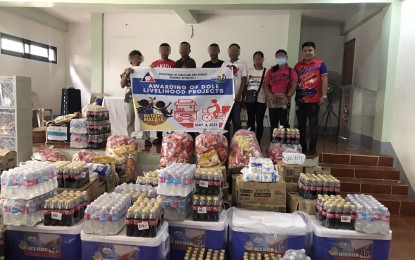 MALASIQUI, Pangasinan–The Department of Labor and Employment (DOLE) has strengthened its convergence with social partners and local government units (LGUs) for its campaign against child labor in Ilocos Region.
DOLE Ilocos regional director Exequiel Ronie Guzman, in a statement on Friday, said they have profiled child laborers and have been immediately provided with and referred for necessary services to various government agencies and social partners such as the Department of Social Welfare and Development (DSWD), Department of Education (DepEd), and the LGUs.
He said a total of 10,584 children have been profiled in the region in 2022, and 73 percent or 7,726 of them were into forms of child labor.
"While these numbers are indeed significant, we should be transparent about the figures because it is through these data that we can truly measure our efforts and harmonize our actions to address this social issue," Guzman said.
Most of the profiled child laborers are from the western and eastern towns of Pangasinan, where they are tapped to do back-breaking agricultural works while other child laborers were profiled to be working in construction sites and retail establishments, he added.
As part of the fight against child labor, DOLE, through the Integrated Livelihood Program, has awarded livelihood starter kits to a number of parents of child laborers as assistance.
"As we encourage their parents and families to bring their children out from child labor, it is also important that we provide them with the necessary assistance to empower them economically, as poverty remains to be the primary reason why these children are forced to engage in laborious and sometimes hazardous kinds of work," Guzman said.
He added that the recipients were regularly monitored by DOLE field offices to ensure that their livelihood projects are sustained and generated income for their families.
In celebration of the World Day Against Child Labor on June 12, he said that DOLE will lead advocacy and orientation lectures and gift-giving activities simultaneously in all provinces in the region with some 600 profiled children.
Other activities include the distribution of food packs, medicines, clothes, and coin banks as well as mascot shows, puppet shows, film viewing, art exhibit, and storytelling sessions will also give entertainment to children these events, he added.
Meanwhile, in Negros Oriental, the province will also mark the Independence Day celebration with an emphasis on child laborers and interventions to be carried out to address the problem.
DOLE-Negros Oriental provincial director Ma. Teresa Tanquiamco told the Philippine News Agency (PNA) on Friday that on top of the usual local and overseas jobs fair, this year's celebration will also include World Day Against Child Labor.
"We have identified 25 parents of child laborers to participate in this year's activity, which includes skills assessment to determine the best livelihood package for each one of them," she said in part Cebuano.
The Technical Education and Skills Development Authority (TESDA) will help in the assessment and also provide them with the necessary training so they may qualify for government assistance, she added.
Since last year, DOLE has already profiled more or less 7,000 child laborers across the province.
Child laborers were found in the construction industry, sugarcane plantations and farm work and domestic employment, manufacturing and retail, among others.
The DOLE official said there is a need to empower and provide interventions to the child laborers' parents to protect these children from exploitation, abuse, underpayment, and dangerous work environments.
Meanwhile, 22 local employers with 2,078 vacancies and four overseas companies with 850 vacancies have committed to participate in the Independence Day jobs fair here. (PNA)