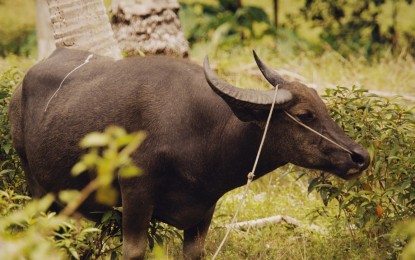 LEGAZPI CITY – The provincial government of Albay will start to evacuate on Saturday afternoon some 10,000 heads of livestock from the 6-km permanent danger zone (PDZ) of Mayon Volcano amid its increasing restiveness.
In an interview on Friday, Dr. Pancho Mella, Albay provincial veterinarian, said aside from the residents, it was necessary to also evacuate the animals to ensure their safety.
"We need to evacuate the livestock animals like carabao, cattle and goats. We need to evacuate those animals in a safer ground to protect the livelihood of the residents, being part of the source of their daily income," Mella said.
Mella said based on the contingency plan, they need to evacuate all animals from the 6-km PDZ and move them to 7-km or 8-km sites.
He said they already have "pulling sites" or evacuation areas where the animals from the three districts of Albay will be placed.
"We already identified one in Malilipot town for the 1st District, also in Camalig or Daraga for the 2nd District and in Ligao City for the 3rd District. Preparations of food for the animals, ropes and other supplies are ongoing. We can start the evacuation tomorrow afternoon," he said.
"We will just pull them out from the 6-km. If the Phivolcs raised again the level to alert level 4 then, we will move them again to 9-km or 10-km," Mella added.
He also asked residents who will evacuate to leave their companion animals like dogs and cats with their relatives because pets are not allowed in evacuation centers.
"If they cannot bring them, at least do not cage or do not tie their companion animals," Mella said. (PNA)