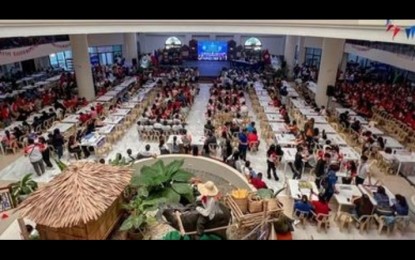 MALASIQUI, Pangasinan – Local and overseas employers are offering 25,987 job vacancies to residents of the Ilocos Region on the 125th Independence Day in eight locations.
In a virtual forum hosted by the Philippine Information Agency Ilocos regional office on Friday, Department of Labor and Employment (DOLE) Ilocos Region information officer Justin Marbella said of the total number of job vacancies, 21,424 are local employment and 4,563 are overseas employment.
He said the June 12 jobs fair is open not only to college graduates but also to undergraduates, senior high school graduates, and would-be-graduate students.
He added that job seekers are advised to pre-register although walk-ins are welcome.
Among the venues is Robinsons Mall in San Nicolas Ilocos Norte, with 1,439 job vacancies by 28 employers; 3,921 in Candon Civic Center in Candon City, Ilocos Sur by 39 employers; and 3,673 available jobs in Mana Mall in San Fernando City, La Union by 24 employers.
Marbella said there are five venues in Pangasinan as it has the biggest land area in the region and with most districts.
The venues for the jobs fair in Pangasinan are in Don Leopoldo Sison Convention Center in Alaminos City with 1,623 job vacancies by 13 employers; Nepo Mall and SM Center Dagupan in Dagupan City with 1,553 job vacancies by 23 employers and 541 vacancies by 25 employers, respectively.
The highest number of job vacancies will be offered at CB Mall in Urdaneta City with 7,082 job vacancies by 34 employers.
The jobs fair at SM City Rosales in Rosales town, Pangasinan will be held on June 11 with 6,155 job vacancies by 20 employers.
"The venues were chosen by district so that it would not be hard for the job seekers," Marbella said.
He added that the top five job types to be offered at the jobs fair are production operators, customer service representatives, microfinance officers, quality assurance inspectors, and construction workers.
"A plant in Bataan is looking for production operators to be assigned in Bataan which is an economic zone," he said.
Marbella said the job vacancies, however, are not limited to those top five as there are also available jobs for medical professionals such as nurses and midwives as well as teachers and English as a second language tutors.
He said there are also those in the tourism industry such as hotel workers.
"What is good about this kind of jobs fair is that the employers we have invited are following the laws and guidelines and they have good records in their companies. We have a screening process for the employers who will be joining the jobs fair because we wanted to offer quality jobs to our job seekers," he added. (PNA)