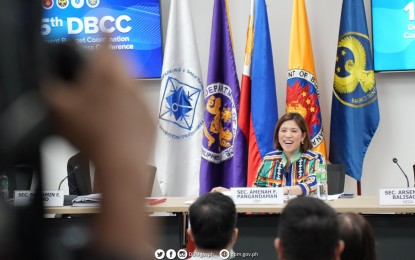 MANILA – President Ferdinand R. Marcos Jr .'s economic managers on Friday estimated government revenues to reach PHP3.73 trillion in 2023 and PHP6.62 trillion in 2028.
The latest projection was higher than last year's forecast that revenues for 2023 and 2028 would be PHP3.63 trillion and PHP6.59 trillion, respectively.
"This is reflected in our strong fiscal performance for the first four months of the year with actual revenues inching up to PHP1.26 trillion, higher by 11.2 percent due to improved tax administration," Budget Secretary Amenah Pangandaman said in a briefing held after the 185th meeting of the inter-agency Development Budget Coordination Committee (DBCC).
"This is projected to reach PHP3.729 trillion by the end of the year and further rise to PHP6.622 trillion in 2028 through the implementation of revenue-generating measures over the medium term," she added.
The economic team also revised the revenue assumption for 2024 (PHP4.20 trillion from PHP4.06 trillion, 2025 (PHP4.69 trillion from PHP4.58 trillion), 2026 (PHP5.26 trillion from PHP5.16 trillion), and 2027 (PHP5.90 trillion from PHP5.82 trillion).
Pangandaman, chair of DBCC, said disbursements will remain above 20 percent of the gross domestic product over the entire plan period, with priority given to infrastructure and socio-economic development.
While it was retained to over 20 percent, disbursement was adjusted to PHP5.23 trillion from PHP5.09 trillion for 2023, PHP5.56 trillion from PHP5.40 trillion for 2024, PHP5.89 trillion from PHP5.76 trillion for 2025, PHP6.37 trillion from PHP6. 25 trillion for 2026, PHP7.02 trillion from PHP6.92 trillion for 2027, and PHP7.77 trillion from PHP7.71 trillion for 2028.
Pangandaman said deficit is also targeted to gradually reach pre-pandemic levels of 3 percent of GDP in 2028 from this year 's 6.1 percent.
"The DBCC maintains its commitment to ensuring sound fiscal management guided by the Medium-Term Fiscal Framework," she said.

Sustaining economic growth momentum
The economic team pledged to sustain the Philippines' "high" economic growth trajectory to realize the administration's goal of bringing a comfortable life to all Filipinos.
Pangandaman said they would continue to pursue initiatives that have "lasting impacts."
"The DBCC commits to continuing its proactive efforts to sustain the high growth trajectory of the Philippine economy towards realizing the AmBisyon Natin 2040 of Filipinos for a 'matatag, maginhawa, at panatag na buhay (stable, comfortable and peaceful life),'" she said.
"With clear coordination with government institutions, we will strive to implement reforms and strategies that will have lasting impacts on the country's fiscal resources, business climate, and ultimately, the lives of Filipinos," she added.

Proposed 2024 budget
Pangandaman also noted that the Marcos administration is currently preparing the proposed PHP5.77-trillion 2024 national budget, higher by 9.5 percent compared to this year's PHP5.27 trillion nation budget.
She said the proposed national budget for 2024 will continue to prioritize expenditure items that promote social and economic transformation through infrastructure development, food security, digital transformation and human capital development.
"Acknowledging the competing demands of government programs against a backdrop of limited resources, we shall ensure that the FY (fiscal year) 2024 National Expenditure Program will only include implementation-ready agency proposals," she said. (PNA)