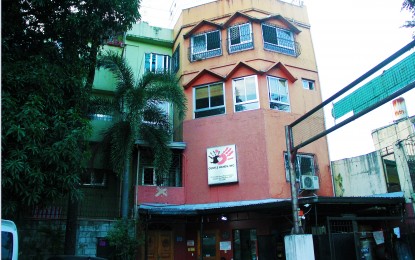 MANILA – The executive director of the childcare facility Gentle Hands Inc. (GHI) is facing charges of kidnapping under Article 270 of the Revised Penal Code over her 'failure to return' the three minor children of a 31-year-old mother.
The complaint against Charity Heppner Graff was filed by Monina Espinosa Roxas, who is also known by the name Juvy Roxas Espinosa, before the Quezon City prosecutor's office Friday afternoon.
Based on Roxas' complaint affidavit, which was finalized with the assistance of lawyers from the Inter-Agency Committee Against Trafficking (IACAT) Task Force of the Department of Justice (DOJ), Graff refused to return her three children despite the GHI's receipt of her Parenting Capability Assessment Report (PCAR) issued by the Pasig City social welfare office.
Roxas has also submitted to Gentle Hands the dismissal of the case involving Republic Act 7610, an anti-child abuse law pertaining to family matters, which was the reason why the complainant-mother in late 2019 initially sought the assistance of Bahay Kalinga for the temporary shelter of her three minor children.
Bahay Kalinga would later refer Roxas to Gentle Hands headed by Graff, who immediately took her three minor children for temporary shelter in GHI's Quezon City facility during the third week of November 2019, subject to several stringent conditions.
In her affidavit, Roxas narrated that she was not able to see her three children from 2019 up to December 2021 as Gentle Hands personnel often refused to allow her children to see their mother whenever she comes to visit them.
She also revealed that based on the rules of Gentle Hands, she can only visit her children every Thursday from 10 a.m. to 2 p.m. and that each visit would only last for one hour.
There was also a warning from Gentle Hands that should Roxas fail to visit her children for at least once every three months, the GHI will declare them as abandoned children and will be automatically placed for adoption.
"Para lang makuha ang kustodiya ng aking mga anak, ako ay binigyan ng napakarami at mahirap kuhanin na requirements kapalit ng hindi pagpapakita sa aking mga anak sa tuwing pagdalaw, (Just to get the custody of my children, I was given a lot of requirements that were difficult to obtain so that I can never see my children whenever I visited)" Roxas said.
When she tried to see her children sometime in February 2020, she lamented that Graff refused to let her see them, citing as reason the still unresolved case that has something to do with the Anti-Child Abuse Law.
She added that Graff and her so-called social workers forced her to wait for up to three hours whenever she tried to visit her children, only to be prevented to see them due to various reasons concocted by the respondent and her staff.
Roxas related further that on November 2020, she again visited her children at GHI's Quezon City facility to give Graff a copy of the Order of Dismissal on the case pertaining to RA 7610. She was accompanied by her two sisters, Annabelle and Ilenne, who confirmed that they have already settled amicably.
"Hindi ko pa din nakuha ang aking mga anak. Bukod doon, hindi ko pa din sila nakita dahil sa sinabihan ako ng supervisor ng GHI na wala si Ginang Charity Graff at walang pahintulot na makita ko ang aking mga anak (I was not still able to get my children. Besides that, I was not even able to see them as the GHI supervisor told me that Graff was not around and no permission was granted to see my children)," Roxas said.
On December 2020, the mother was able to talk to Graff and give her a copy of the Order of Dismissal by the court and this time, the GHI executive director asked for another requirement, which is the PCAR (Parenting Capability Assessment Report).
All those times, Roxas said she had no communications with her children, and was only able to see their pictures through the Facebook page of GHI. She was also not given any updates on her children coming from Graff or the GHI.
But when the GHI received a copy of the PCAR from the Pasig City social welfare office dated Aug. 2, 2021, Graff still refused to return her children, the distraught mother said.
On December 2021, Roxas, accompanied by her sisters Anabelle and Ilene, went to Golden Hands to get her children but was surprised that Graff became more adamant and told them that she will never get her children again.
She said that the GHI executive director even pointed her hand on her while at the waiting area outside the facility, while saying that she could not get her children back even if the case were taken to court.
Worse, Roxas said that after two years of not being able to see her children, GHI personnel, upon the instruction of Graff, was pressing her to sign a Deed of Voluntary Commitment (DVC), which means that she is voluntarily surrendering her right as a mother to her three minor children.
Roxas said she finally found some ray of hope of again seeing her children after learning that the Department of Social Welfare and Development (DSWD) has issued a cease-and-desist order (CDO) against Gentle Hands on May 24, 2023.
Contrary to signing the DVC, she said she immediately sought to find her children upon learning of DSWD's order and recover them from Graff and GHI.
"Dahil sa pakiramdam ko ay inabuso ang aking kahinaan ni Charity Graff upang pilitin akong isuko ang aking mga anak upang magawa niya ang kaniyang naisin sa mga bata (I felt that Graff too advantage of my weakness in order to force me to abandon my children and do whatever she had in mind for them)," Roxas said.
In filing her case, Roxas' lawyers cited the case of People v. Bernardo, 428 Phil. 769, 776 (2002).
It was stared therein that "… This crime has two essential elements: The offender is entrusted with the custody of a minor person; and the offender deliberately fails to restore the said minor to his parents or guardians." (PNA)