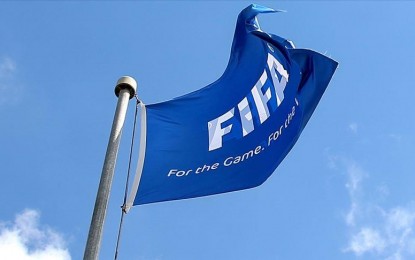 MANILA – The Philippine women's football team moved up to a new all-time high in the FIFA rankings as revealed on Friday night.
The Filipinas jumped three places to No. 46 in the world, even overtaking Myanmar in the ASEAN rankings.
Despite beating the Filipinas in the Southeast Asian Games, Myanmar fell to No. 50 overall as the Filipinas are now No. 3 in the ASEAN region.
In effect, the Filipinas are now No. 8 in Asia as well.
This will be the last FIFA ranking update before the FIFA Women's World Cup, where the Filipinas will make their much-anticipated debut.
PFF seeks government help
Speaking of the FIFA WWC, Philippine Football Federation (PFF) president Nonong Araneta bared that they are currently seeking financial intervention from the national government in funding the Filipinas' campaign.
"The support is there, but I still want some support from the government because up to now, even in our preparation, we haven't been getting the support that we need to get," Araneta said during a special send-off event organized by the New Zealand Embassy in Makati on Thursday night.
He disclosed that the PFF is asking for PHP30 million from the national government.
According to Araneta, funding for the Filipinas' World Cup stint would take at least USD3 million (about PHP168 million), and he believes the Philippine Sports Commission (PSC) can help the PFF financially just like how it contributed major monetary help in the Samahang Basketbol ng Pilipinas' hosting of the FIBA World Cup.
"Hopefully, we'll get it soon because preparing for the Women's World Cup is no joke," Araneta further said. "I hope the Philippine government, through the PSC, can give us some funding for that because they have given PHP1 billion to basketball."
Araneta said the PFF has reached out to the PSC, but at the moment, according to him, "We still haven't got any concrete answer from them."
PFF women's football head Belay Fernando-dela Cruz said the Filipinas would begin their training camp in Sydney on Saturday.
The Filipinas are expected to reveal their FIFA WWC pool this weekend. (PNA)