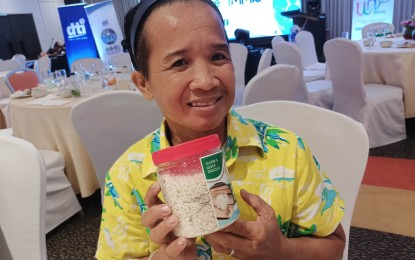 ILOILO CITY – A 48-year-old social worker from the municipality of Miagao is now leading the way in reviving the town's dying "Budbud" sea salt industry.
Lorlie Noblezada, the owner of the De Paul Artisanal Salt Manufacturing based in Barangay Mambatad, said on Monday the industry dates back to 1823, spanning the coastal lines of the 21 villages of the municipality.
However, due to shortened shorelines caused by climate change and the establishment of seawalls, among others, the industry has started to dwindle, leading other "asindera" and "asindero" (salt-makers) to stop operations.
"It's a very laborious kind of work," she said.
Barangay Guibongan, where the industry started, stopped its operations two years ago while Mambatad ended in 2004.
"After 195 years, I'm very happy that I am the only woman who took the helm of the industry, putting in some innovation. This used to be managed by males," Noblezada said in an interview.
Noblezada is currently one of the mentees of the Kapatid Mentor Me (KMME) Program of the Department of Trade and Industry (DTI), a coaching and mentoring program where they were taught the various aspects of business operations.
Through the KMME, she said, they were required to come up with their business model canvas and business implementation plan (BIP) and learn about digitalization, among others.
Noblezada said that in terms of funding, she was fortunate to have won fourth place in the DTI's Moonshot TNK Pitching Competition for Startups.
Moonshot TNK is a breakthrough program of DTI Western Visayas that aims to support local startups to jumpstart their technological and innovative solutions.
Currently, at least four international investors have taken an interest in the project.
Her being a mentee came after the support of Coastline 5023, a fisheries technology business incubatee, which ended in February this year.
Noblezada credited the University of the Philippines Visayas for linking her with the incubatee, apart from offering a portion of the university property in Mambatad for salt-making.
Coastline 5023 provided seminars and training to help enhance their industry, and in registering their business with the DTI and the Bureau of Trademark, she added.
She is 100 percent positive that the salt-making industry will be revived with the local government unit and other agencies already coming in to extend support.
Budbud salt is made by drying seawater using bamboo poles passing through various processes.
It started with the preparation of an area that is being watered with seawater for one week. Once saturated, the sand is transferred to the filtration house, and the sand is again poured with seawater that drains into their holding area.
The saline is mixed with balunos vine which helps the filtered seawater to become more concentrated.
It is again placed in the bamboo pole and allowed to dry naturally under the heat of the sun or air for two to four days.
Once the salt is formed, they are removed from the bamboo pole and roasted as a food safety requirement.
She said that as an innovation, they added flavor, such as lemon grass.
In a day, they can prepare 30 to 50 kilos of budbud.
A ganta of budbud, which is equivalent to two-and-a-half kilos, costs PHP100 to PHP120.
If it has packaging and labeling, 200 grams costs PHP50, 400 grams is PHP100, and 500 grams is PHP120 to PHP150.
Noblezada said the product has a huge potential because it is a basic need, a necessity. (PNA)