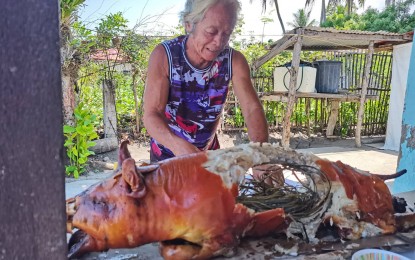 DUMAGUETE CITY – Authorities here in this capital have started the monitoring and surveillance of the African swine fever (ASF) after the first case was reported in a barangay on the city outskirts recently, the city veterinarian said on Tuesday.
Dr. Marites Arapols told the Philippine News Agency that following the issuance of Executive Order No. 8 by Mayor Felipe Antonio Remollo over the weekend, pigs and by-products are no longer allowed to leave or enter Barangay Cadawinonan where the ASF case was detected.
"So far, as of today, no other hog deaths were reported but we are closely monitoring the ground zero area where the ASF-infected pig had died," Arapols said.
Arapols said that aside from the deceased pig, another pig in the same pen was tested for the virus but yielded negative results.
Initially, a test-and-destroy operation was conducted this past weekend within a 500-meter radius of "ground zero," however, the pigs tested negative for ASF, she said.
There was no need for culling after the tests came out negative, but Arapols said they have asked residents and barangay officials to closely monitor the pigs in the area and in nearby barangays like Balugo and Talay.
She also urged hog raisers to undertake bio-security measures to contain the spread of the ASF.
"The ASF virus does not manifest itself immediately, and usually it takes about 14 days before an infected pig comes down with the symptoms," the city veterinarian said.
Arapols said that while they have taken blood samples from pigs for laboratory examination, they have also been conducting random testing for faster results.
Meanwhile, she called on the public to stop feeding their pigs with swill as this could be a potential carrier of the virus.
She admitted it was difficult to control the collection of swill from the public market as some people are simply "lazy" to dispose of the waste food and would rather give them to hog raisers.
Veterinary authorities earlier said they believe the first ASF case in Negros Oriental, which was reported in Barangay Maayong Tubig in Dauin town, was due to swill-feeding of the pigs that eventually succumbed to the disease. (PNA)