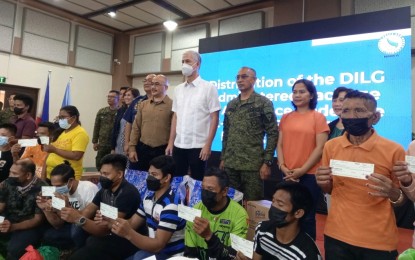 BACOLOD CITY – Some 14 former combatants and members of the New People's Army (NPA) in Negros Island received a total of PHP1.05 million in financial assistance and food packs on Wednesday under the government's Enhanced Comprehensive Local Integration Program (E-CLIP).
The recipients included ex-rebels from the municipalities of Isabela, Cauayan, Toboso and Escalante City in Negros Occidental and Ayungon town in Negros Oriental.
Negros Occidental Gov. Eugenio Jose Lacson, who led the distribution of checks during the Regional Peace and Order Council-Western Visayas meeting here, called on the Negrenses who are still in the armed struggle to return to the fold of the law.
"Just as we extended assistance financial assistance to former rebels, we're also calling on those that are still active rebels to come down and live a peaceful life. Nobody wins in a war. We're extending our open arms to them, asking them to join their former comrades," he added.
The former rebels were given a total of PHP970,000 in immediate and livelihood assistance while the line battalions of the Philippine Army's 302nd and 303rd Infantry Brigades assisting them in processing their requirements received PHP84,000 as reintegration assistance.
The provincial government, through the Provincial Social Welfare and Development Office, also provided them with a sack of rice each along with canned goods and other grocery items.
Under the E-CLIP, former rebels or their qualified beneficiaries receive benefits, such as guaranteed safety and security, financial assistance, subsistence allowance, food expenses while in the custody of the receiving unit, travel and mobilization expenses, and corresponding compensation for surrendered firearms. (PNA)