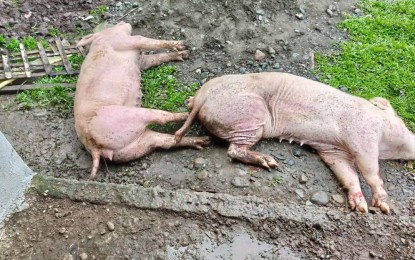 SAN JOSE DE BUENAVISTA - Antique is no longer free from African swine fever (ASF) as the top official of the Department of Agriculture in Western Visayas confirmed on Wednesday that swine mortalities in the municipality of Hamtic were caused by the animal disease.
DA OIC Regional Dir. Jose Albert Barrogo said that based on their clinical laboratory report, four of the five serum samples submitted by the Provincial Veterinary (ProVet) Office to the DA
Regional Animal Disease Diagnostic Laboratory (RADDL) in Iloilo City on June 19 were positive for ASF.
"We had the copy of the results of the serum samples confirming it to be positive for ASF submitted to the Office of Governor Cadiao today," Barrogo said in a phone interview.
Barrogo urged the concerned local government to implement depopulation and culling of hogs within the 500-meter radius of the affected site to prevent the further spread of the viral disease.
Hogs within a 500 meters radius could already be infected by the disease, he added.
"We urge the provincial government and the LGU of Hamtic to provide assistance to the affected hog raisers," he added.
He said that the laboratory result could also be used by the LGU of Hamtic, in particular, to declare a state of calamity so it could assist hog raisers.
The Hamtic Municipal Agriculture Office (MAO) has recorded deaths of 1,359 hogs valued at PHP13.04 million in 22 barangays.
Hamtic has more or less a 9,000 hog population.
Barrogo added that Executive Order 35 issued by Hamtic Mayor Julius Ronald Pacificador on June 19, 2023, allowing the transport, slaughtering, and sale of apparently healthy swine and pork could only be possibly implemented within the barangays of the municipality.
"The LGU should really have to contain the spread of the ASF," Barrogo said. (PNA)