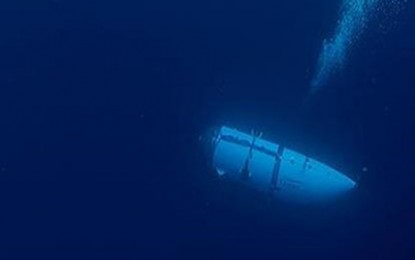 TRENTON, Canada – The US announced Friday it will investigate the loss of the Titan, while Canada said it will probe the actions of the Polar Prince, the Canadian vessel that towed the submersible to the site of the Titanic in the Atlantic Ocean.
The US National Transportation Safety Board declared the destruction of the Titan a "major marine casualty" and said Friday that the US Coast Guard would lead an investigation into the loss of the submersible.
Meanwhile, the Transportation Safety Board of Canada (TSB) said it would launch an investigation into the actions of the Polar Prince support vessel that towed the Titan from Newfoundland to the site of the wreckage of the Titanic in the Atlantic Ocean.
The TSB said its action is "in accordance with the Canadian Transportation Accident Investigation and Safety Board Act and international agreements."
"In the coming days, we will coordinate our activities with other agencies involved," it said in a statement. "This is all the information available at this time. Updates will be provided as the investigation progresses."
The Polar Prince is a Newfoundland vessel owned by the Miawpukek First Nation.
The ship joined other vessels in the search for the Titan. It also carried some family members of the five men that died in the implosion of the submersible.
Miawpukek Chief Mi'sel Joe told the Canadian Broadcasting Corp. on Friday that the investigation would be harrowing for the Polar Prince crew.
"It's going to be rough on the crew," he said. "They're looking after the ship, they're looking after themselves, and they're looking after the family that's on board. My heart goes out to them. To all of them. It's a loss of life, and it's never easy on the family."
The Polar Prince lost contact with the Titan early Sunday, about 90 minutes after it began towing the submersible toward the Titanic – 700 km. (435 miles) off the coast of Newfoundland.
A remotely operated vehicle found the Titan submersible's tail cone on the seafloor roughly 1,600 feet (488 meters) from the bow of the Titanic.
Additional debris that was discovered near the site was "consistent with the catastrophic loss of the pressure chamber," said a US Coast Guard official. (Anadolu)