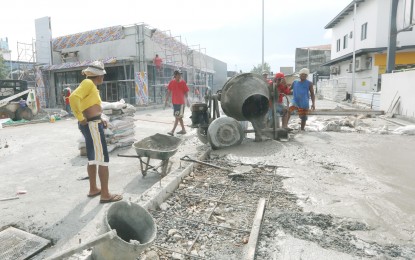 MANILA – Senate Minority Leader Aquilino Pimentel III and Senate Committee on Labor and Employment chairperson Jinggoy Estrada on Friday called on other regional wage boards to follow the example set by the National Capital Region-Regional Tripartite Wages and Productivity Board (NCR-RTWPB) and set similar wage hikes in their respective jurisdictions.
In a statement, Pimentel said other regional wage boards should also implement reasonable wage adjustments.
"I earnestly call upon the wage boards to establish minimum wages that not only uphold fairness for our dedicated workers but also empower them to live a life of dignity," Pimentel said.
Pimentel also emphasized "the urgency of reviewing and reassessing current wage rates to ensure they are both reasonable and realistic for workers across all provinces."
"Today's minimum wage rates across the country are unacceptable," Pimentel said. "To increase our wage rates in every corner of the nation today is a matter of social justice given the prevailing challenges of inflation and its adverse effects on purchasing power."
Citing data from the National Wages and Productivity Commission, Pimentel drew attention to the very low minimum wages in nearby regions such as the PHP460 for the non-agricultural sector, and PHP430 for agricultural workers in Central Luzon; and PHP470 and PHP429 for non-agricultural workers and agricultural workers in Calabarzon, respectively.
"It is essential that these boards consider the economic realities faced by workers in their respective regions and take appropriate steps to help our countrymen who struggle to make ends meet," Pimentel said.
In a separate statement, Estrada echoed Pimentel's sentiments, saying other regional wage boards should expedite wage hike petitions in their respective areas.
He added though that his committee will still conduct a hearing on the proposed PHP150 across-the-board wage hike as soon as the session resumes this July.
The hearing was proposed by Senate President Juan Miguel Zubiri. Senate Majority Leader Joel Villanueva, Senate President Pro Tempore Loren Legrada, and Senators Christopher Go and Nancy Binay.
While both Zubiri and Estrada lauded the wage increase in Metro Manila, Estrada admitted it is not enough from the proposed PHP150 across-the-board daily minimum wage hike which was already approved in principle by his committee.
"Our workers need and deserve wage hikes to cope with the ongoing rise in the prices of basic goods and commodities This does not mean that bills proposing adjustments in workers' wage rates, which are currently pending before my committee on labor, will be put on the back burner," he said.
"While these bills await action, we hope that other RTWPBs will follow suit, either by addressing filed petitions or initiating action on their own accord," Estrada added.
AGRI Party-list Rep. Wilbert T. Lee also hailed the NCR PHP40 minimum wage increase, calling on other regional wage boards to follow suit amid high prices of basic commodities.
"Sa panahon na mataas pa rin ang presyo ng mga pangunahing bilihin, malaking tulong pa rin ang dagdag-sahod na ito lalo na para sa ating urban poor sa Metro Manila (During this period where prices of basic commodities remain high, this wage hike is a big help particularly for urban poor in Metro Manila)," Lee said.
"Ang hiling natin ay sana magpatupad na rin ang minimum wage increase ang iba pang mga rehiyon sa lalong madaling panahon, lalo na sa mga lugar na maraming naghihirap (Our request is for other regions to likewise immediately implement minimum wage increase, especially in areas where many are suffering)," Lee said.
He pointed out that generating jobs and increasing wages should be the priority of the government and to achieve this "efforts should also be focused on creating a business-friendly environment that will encourage investments and spur the growth of local industries."
"While government recognizes and acts on the needs of our workers, it must also realize that it has to empower the business sector so that businessmen are in a position to provide jobs and higher wages," he added.
He said Congress on May 29 passed House Bill (HB) 8278 or the proposed Philippine Salt Industry Development Act that would create more jobs and economic opportunities.
The proposed measure, he said, has the potential to create 3,000 to 5,000 jobs in the country's rural and agricultural communities.
The NCR-RTWPB granted a PHP40 salary increase for minimum wage earners in the private sector through Wage Order No. NCR-24 on June 26.
With the decision, the daily minimum wage in Metro Manila has increased from PHP570 to PHP610 for the non-agriculture sector, and from PHP533 to PHP573 for the agriculture sector, service and retail establishments employing 15 or fewer workers, and manufacturing establishments regularly employing fewer than 10 workers.
The wage hike, which will take effect on July 16, will "directly benefit" 1.1 million minimum wage earners in Metro Manila. (with reports from Zaldy De Layola/PNA)