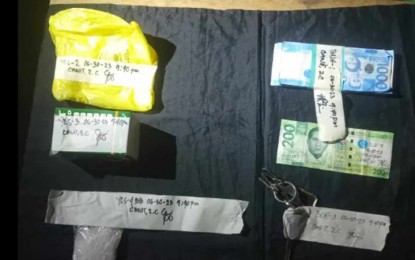 ZAMBOANGA CITY – Lawmen have arrested 12 people, including two government employees, and seized more than PHP1 million worth of illegal drugs in separate anti-drug operations the past two weeks.
Col. Alexander Lorenzo, Zamboanga City Police Office (ZCPO) director, said in a statement over the weekend that the biggest drug haul was in Barangay Boalan, this city, on Friday night.
Suspects Victorio Jison, 44, and Samsuddin Agga, 54, were arrested around 11:28 p.m. Friday in Zone 2, Parkas Drive with some 56 grams of suspected shabu worth PHP380,800.
In Zone 8, Barangay Cawit around 9:31 p.m. also on Friday, Joerly Mendoza, 39, yielded some 49.9 grams of suspected shabu worth PHP339,320.
Mendoza's cohort, Jimmy Sahibul, escaped.
Also seized from Mendoza were a motorcycle, a plastic bag, a box of electric bulb, and 80 pieces of PHP1,000 bills used a boodle money mixed with a genuine and marked PHP200 bill.
Last week, Lorenzo said two suspects were caught with suspected shabu weighing 21.33 grams worth PHP145,044 and 20 grams worth PHP136,000.
Lorenzo has ordered all 11 police stations and two mobile force companies under ZCPO to focus on high-value targets in their anti-drug operations.
The rest of the suspects caught with shabu were apprehended in the provinces of Zamboanga del Norte and Zamboanga Sibugay.
Among those arrested were employees of the Siocon municipal government in Zamboanga del Norte and the Department of Public Works and Highways. (PNA)