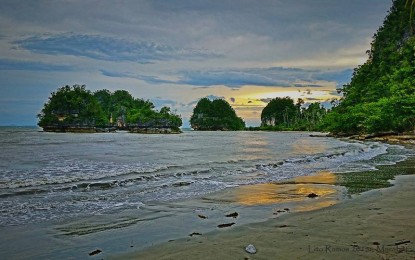 TACLOBAN CITY – San Pedro Bay in Samar province has been cleared of red tide after more than three months of infestation, the Bureau of Fisheries and Aquatic Resources (BFAR) said on Monday.
The fisheries bureau said negative results for the toxin causing paralytic shellfish poisoning (PSP) were obtained from three consecutive weeks of sampling in the seawaters of Basey and Marabut towns in Samar province.
"The public is hereby informed that shellfish samples harvested from San Pedro Bay in Samar are now safe for human consumption. Likewise, gathering or harvesting and marketing of shellfish from the above-mentioned area are now permitted," said BFAR Eastern Visayas Regional Director Hannibal Chavez.
Under Shellfish Bulletin No. 16, all bays in Eastern Visayas are now red tide-free based on the latest confirmed laboratory sampling of the BFAR main office.
However, a local red tide advisory issued by BFAR regional office here warned against harvesting, trading, and consumption of shellfish from Matarinao Bay to prevent the incidence of PSP, which can occur minutes after ingesting bivalve shellfish (such as mussels, oysters, and clams) that contain red tide toxins.
Matarinao Bay covers the coastal waters of the towns of General MacArthur, Hernani, Quinapondan and Salcedo in Eastern Samar.
"To safeguard human lives, a local red tide warning is issued in this area as a precautionary advice to the public to refrain from gathering, selling, and eating all types of shellfishes and Acetes sp. locally known as alamang or hipon from the said bay," Chavez said.
The BFAR field office here is still waiting for confirmation from BFAR central office laboratory.
Although the shellfish ban has been lifted in almost all areas in the region, the BFAR regularly monitors all coastal waters to check possible recurrence.
Included in regular water sample checks are the coastal waters of Daram, and Zumarraga, Cambatutay, Irong-irong, Maqueda, and Villareal Bays in Samar; coastal waters of Guiuan in Eastern Samar; coastal waters of Leyte, Calubian, Ormoc, Sogod, Carigara Bay, and Cancabato Bay, Tacloban City in Leyte; and coastal waters of Biliran Island.
These areas had a history of red tide recurrence in the past years. (PNA)