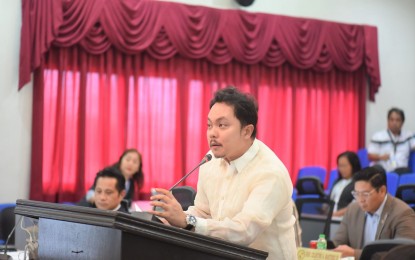 CEBU CITY – The branding campaign issue hounding the Department of Tourism (DOT) has turned into a "black propaganda aimed solely at sullying the reputation of Secretary Garcia-Frasco," decried lawmakers and local chief executives in Cebu province.
The DOT and Frasco, a two-term mayor of Liloan town before she joined the Marcos administration, are under fire for a promotional video that used stock footages of sceneries made to appear like they were shot in the Philippines.
The agency has terminated its contract with advertising firm DDB Philippines, which apologized and owned up to the blunder related to the "Love The Philippines" campaign.
On Monday, the officials signed a manifesto of support for Frasco and called on her critics to stop a "smear campaign" against her and the DOT.
Eleven Cebuano members of the House of Representatives, five component city mayors, 44 municipal mayors, and the three mayors of the highly-urbanized cities of Cebu, Mandaue, and Lapu-Lapu declared their "full and unwavering support" for Frasco.
The officials strongly condemned the patent mudslinging and dirty politicking directed at Frasco, pointing out the barrage of criticisms on social and mainstream media aimed at her.
The manifesto was certified by League of Municipalities of the Philippines (LMP) Cebu chapter secretary and Barili town Mayor Pablo John Garcia IV, and approved by LMP Cebu chapter president and Daanbantayan town Mayor Sun Shimura.
The officials said Frasco has proven herself to be an asset of the administration of President Ferdinand R. Marcos Jr., citing her achievement as the second top-performing Cabinet official, next to Department of the Interior and Local Government Secretary Banjamin Abalos Jr.
"We are well aware that, in all her years as a public servant, Secretary Garcia-Frasco has always taken extra care to preserve and maintain the honor, integrity, and dignity of her office; she has an impeccable track record as a lawyer and as a multi-awarded three-term mayor of Liloan," read the manifesto.
On Monday, the Cebu Provincial Board unanimously passed the resolution sponsored by Fifth District board member, Red Duterte, supporting the DOT slogan that, he said, aims to further promote the country as a top tourist destination in the world.
"The entire Province of Cebu finds it imperative to fully support this initiative, as it also resonates with the province's efforts to fully utilize the benefits of tourism for economic recovery, economic growth and countryside development," the resolution read.
Duterte urged critics to look at the sterling performance of Frasco while at the helm of the Tourism department in doing rounds abroad to promote the country in the post-pandemic and post-Typhoon Odette recovery.
"I was very surprised. You can criticize but it came to a point that it was not criticism aimed towards the slogan itself, but it was already questioning the integrity of the department and Secretary Frasco," Duterte told the Philippine News Agency in a phone interview.
Duterte said they will send copies of the resolution to the Office of the President, DOT, and to media outlets. (PNA)