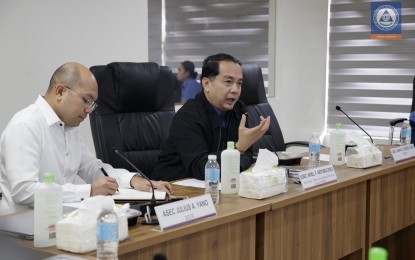 MANILA – The government has so far provided a total of PHP867.2 million worth of assistance to communities affected by the oil spill caused by the Feb. 28 sinking of the M/T Princess Empress, the Office of Civil Defense (OCD) said on Tuesday night.
In a statement, the OCD said 42,487 families in Mimaropa, Calabarzon, and Western Visayas have been affected by the oil spill.
"We appreciate the efforts of everyone involved in this operation. As we now transition into the next phase of our mission – to ensure the recovery and rehabilitation of all affected communities and sectors, let's continue our whole-of-nation approach for this," OCD administrator Undersecretary Ariel Nepomuceno said in a statement shortly after the meeting of the National Task Force on the Oil Spill Management, held in Camp Aguinaldo, Quezon City.
Nepomuceno noted that after the completion of the oil spill removal operation, the task force would prepare the post-disaster needs assessment (PDNA) to plan the programs, projects, and activities for the rehabilitation and recovery of the affected areas.
One of the highlights of the meeting was the result of a scientific conference organized by the OCD from June 22 to 23 in preparation for the PDNA.
"Matters discussed include the provision of access to the latest data and information from agency databases; the updated local pre-oil spill datasets from the local communities to assist and hasten the conduct of PDNA; the active coordination among government agencies to facilitate the recovery efforts starting with the conduct of PDNA; the participation of other stakeholders in gathering baseline information from the identified affected communities; the development and streamlining of tools, and methodologies; as well as the identification of indicators," Nepomuceno said.
The task force also tackled the latest reports regarding water and fish sample tests, the siphoning operations, the status of insurance payout, policy enhancement to streamline and shorten the response time for oil spill incidents, capability enhancement, and other relevant and pressing concerns.
During the meeting, it was reported that on March 3, a regional task force, headed by OCD 4-B (Mimaropa) for oil spill containment, cleanup, and emergency response, was created through Memorandum 14, series 2023 of the National Disaster Risk Reduction and Management Council. (NDRRMC).
This was elevated into a national task force through NDRRMC Memorandum 19, s. 2023. (PNA)