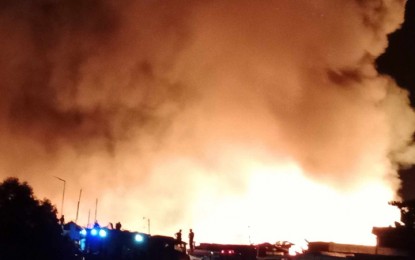 ZAMBOANGA CITY – A 32-year-old man died when a fire disrupted a wedding ceremony and razed to the ground at least 300 houses in Barangay Kasanyangan here Saturday night.
The fire, which broke out shortly after 8 p.m. started at a boarding house of one Jane Jalil during a wedding ceremony, Col. Alexander Lorenzo, Zamboanga City Police director, said Sunday.
Bennajar Anding, 32, was taken to the hospital after he was electrocuted but was declared dead on arrival by the attending physician, Lorenzo said, citing the report of the Bureau of Fire Protection (BFP).
The fire lasted more than four hours and razed 300 houses in the closely-built community, the official said, adding that they have yet to determine the total cost of damage.
Mayor John Dalipe directed concerned city departments to mobilize government resources and provide immediate relief to the displaced families.
The affected families are temporarily housed at the Kasanyangan village hall while others have sought refuge from relatives. (PNA)