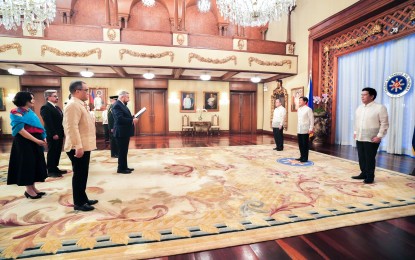 MANILA – As part of the celebration of Mexico and the Philippines' 70 years of relations, the two countries agreed to increase cooperation on trade and culture.
Presenting his credentials to President Ferdinand R. Marcos Jr. in Malacañang on Monday, Mexico's Ambassador-designate Daniel Hernandez Joseph said the two countries can do so much "in trade, in culture, in science."
Marcos, for his part, said the new economy calls for a new workforce with different skills than what countries traditionally depended upon before.
"And much of the work we are doing to transform the economy is to transform the workforce so that the daily technologies are understood. It extends in every field," he said.
He added that while Mexico is seen traditionally a distant country halfway around the world, it doesn't matter anymore today, noting the pandemic has taught people how to do business without physical travels.
"So I think that changes the relationship and that changes the possibilities, the potentials that we should explore," Marcos said.
Marcos also thanked Mexico for taking care of Filipinos, noting that there is a strong Filipino community in that country.
During their conversation, Hernandez Joseph disclosed that Mexico's national university made offering this year in the area of Filipino studies.
"It's just beginning which again like I said opens new opportunities for furthering the knowledge and exchange of each other today not only in history but who we are together and what we can do together today," he said.
The diplomatic relations between the Philippines started on April 14, 1953.
The Philippines opened its embassy in Mexico City and the Mexican embassy opened in Manila in the same year.
Earlier this year, the Philippines and Mexico commemorated the 70th Anniversary of the Establishment of Bilateral Relations through the illumination of national monuments and buildings in both countries.
Latest data showed that as of February this year, a total of 1,206 Filipinos are in Mexico who are mostly craft and trade related workers, technicians and associate professionals, and other industry professionals.
Last year, Mexico was the 23rd trading partner of the Philippines, with total value of trade amounting to USD1.1 billion.
The country's products for promotion to Mexico include machinery or mechanical appliances and auto parts, electrical or electronic equipment, food products such as desiccated coconuts, vegetable saps and extracts, coconut palm, condiments, furniture and furnishings, and garments and footwear.
Mexico has ongoing applications for Philippine market access for bovine and pork meat, grapes, avocados and citrus. (PNA)