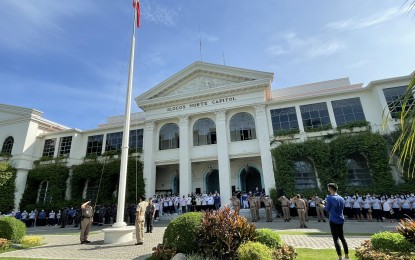 LAOAG CITY – The province of Ilocos Norte will partner with the Department of Information and Communications Technology (DICT) to have an integrated government approach in terms of e-governance.
Members of the Sanggunang Panlalawigan (SP) unanimously approved on Monday Provincial Resolution No. 2023-07-165, authorizing Ilocos Norte Governor Matthew Joseph Manotoc to enter into a memorandum of agreement (MOA) with the DICT represented by Secretary Ivan John E. Uy or any other authorized officer to harmonize, coordinate, and integrate the information and communication technology applications and systems in the province for easier government transactions.
"By harmonizing our efforts to digitalize our government systems, more people will be served better and faster," said provincial board member Elmer Faylogna in sponsoring the measure on Monday.
As chair of the committee on transportation and communication, Faylogna said there is a need to digitally transform government processes to keep pace with the computer age.
To date, the DICT has initiated several flagship programs which include the systems development, implementation, and integration of E-Local Government Units (ELGU), E-Government Applications (EGovApp), EGovpay, E-Travel, and E-Cloud, among others.
As stated in the agreement, both parties commit to pursuing digital transformation and e-governance initiatives.
Earlier last month, President Ferdinand R. Marcos Jr. launched the eGov PH Super App, which aims not only to streamline processes but also to help minimize corruption.
The first e-governance app can be downloaded via Google Play and Apple Store.
Through the app, Filipinos can access and avail of various government services, such as valid personal identification in digital format; essential day-to-day core government services; e-tourism and e-travel services; e-payments and banking services; and, even access to news and information about various subjects. (PNA)