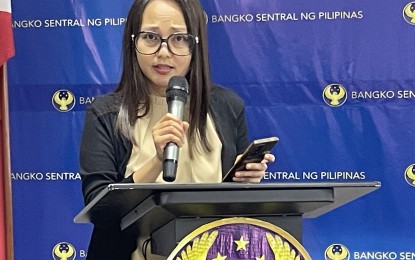 LAOAG CITY – The Bangko Sentral ng Pilipinas (BSP) on Tuesday urged all Ilocanos to adopt digital payments for more efficient and convenient financial services.
In an interview at a Kapihan media forum held at the BSP Batac Branch on Tuesday, Cristamarie Tabilas-Abiva, deputy director of the BSP Regional Operations Sub-sector in Ilocos, emphasized the need for the public to better understand how digital payment works.
"The main reason why people are hesitant to adopt digital payments is because of scams but the risk can be avoided/minimized by being vigilant about the potential risks," she said while noting that ensuring the safety of digital financial transactions is a shared responsibility.
The BSP targets to digitize at least 50 percent of all retail payments and bring 70 percent of adult Filipinos into the financial system this year.
To ensure digital security, the BSP shared the following tips: do not entertain strange or suspicious messages; form a strong password and ensure exclusive knowledge of it; use two–step verification; review transaction history and report suspicious ones; and enable alert notifications.
Maureen Franco, head of the BSP Payments Policy and Development Department, reported an increasing trend in the share of digital total payments volume in the country, rising from 10 percent in 2018 to 14 percent in 2019; 20.1 percent in 2020; 30.3 percent in 2021; and 42.1 percent in 2022.
From 20.9 million e–wallet accounts among Filipinos in 2019, the BSP recorded 42.9 million accounts in 2021 or an increase of 56 percent. Most of these accounts were used for mobile payments.
The BSP heads reiterated that digital payment is no longer the future but the present.
"This is the current trend today, so let's think about what we are improving. The use of digital payment is safe," Noel Neil Malimban, regional director of the BSP North Luzon Regional Office, said in his message during the Kapihan.
The BSP officials said digital payment also benefits small merchants/businesses or micro, small, and medium enterprises as it provides them with an opportunity to better manage their financial transactions, establish a formal financial system, enhance their financial profile, and gain better creditworthiness. (PNA)