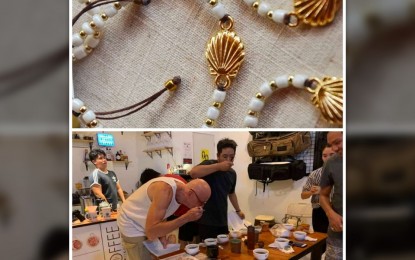 DUMAGUETE CITY – Two young entrepreneurs from Negros Oriental are now reaping the rewards of hard work, perseverance and skills they learned from the Department of Trade and Industry (DTI)'s Kapatid Mentor Me Program (KMMP).
Twenty-seven-year-old Sabrina Teves and Angelo Salvoro, 26, told the Philippine News Agency in separate interviews on Wednesday they both started as hobbyists until they learned that what they do could bring in money.
Teves of Garnish Accessories, who hails from this capital city, said she started crafting fashion accessories in her younger years, but did not think of it as a potential source of income until 2018.
"I just love to make jewelry and gave them out as gifts until sometime in 2018 when I ventured into selling them without a thought of making it a full-time business," she said.
After college, Sabrina worked for her parents but still maintained her fashion creations, doing online selling, and even engaging in made-to-order pieces.
Meanwhile, Salvoro, owner of Café Mystika, and a resident of nearby Valencia town, said he decided to start his own coffee business at a time he was still studying Hospitality Management while working as parttime bartender, who hopped from one outlet to another.
"It was during this time that I decided to give it a try, and start my own business. And I was drawn to coffee," he said.
During the Covid-19 pandemic, when many people lost their jobs due to quarantine restrictions, Salvoro and some friends would set up a stall at the Sunday market at the Valencia plaza where they would sell their home-made brew and other coffee drinks.
Salvoro said that in 2021, he decided to go further in his business and established a café in Valencia.
Last year, Teves and Salvoro were classmates in the KMMP of DTI-Negros Oriental, where they learned about marketing strategies, writing a business plan, and proposing possible financing with banks and similar institutions.
Teves thanked DTI for helping her register her own business, which has now expanded to the famous online retailer, Shopee, after her creations started being noticed by people in areas outside of her home province.
She juggles her time between the job at her parents' company while running the business and managing artisans, some of whom are students.
Househelps also get to earn part-time income by learning the craft and making jewelry for her, she said.
Salvoro, meanwhile, also has a few workers helping him out. Some of them are students who wanted to be trained as baristas.
Both of them are encouraging young entrepreneurs to sign up for the KMMP as it has helped them to better market their businesses.
The DTI has helped them touch base with events where they can participate and feature/sell their products.
Salvoro and Teves said since the KMMP training, they now have a wider
marketing perspective and sales are going up.
Nimfa Virtucio, DTI-Negros Oriental provincial director, said the KMMP is a national government program that aims to help Micro, Small and Medium Enterprises (MSMEs) owners, aged up to 30, to sustain their businesses and widen their scope of clientele.
The program runs for 11 weeks on a hybrid mode, and requires that all participants must complete the course, she said.
During the program, they are asked to draft and submit a proposed business plan to be implemented within a two-year period from graduation with the guidance of the DTI before they are considered graduated and certified, she added.
This year, calls for application are now open for those interested to join the program, with the deadline set on July 19.
Virtucio said 14 of the 25 slots of the said program in the Central Visayas region are allocated for Negros Oriental. (PNA)