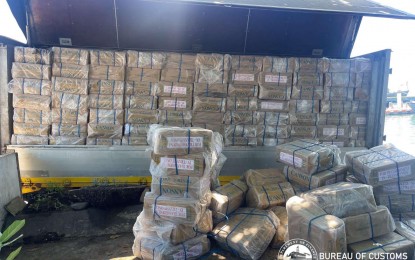 MANILA – The Bureau of Customs (BOC) on Thursday said it has seized PHP18.25 million worth of smuggled cigarettes in a joint maritime operation in the Island Garden City of Samal, Davao del Norte.
In coordination with Naval Forces, the BOC said it intercepted a jungkung, a motorized wooden boat, with 23,400 reams of illicit cigarettes in the vicinity of Barangay Camudmud Sunday evening (July 9).
District Collector Guillermo Pedro A. Francia IV issued a warrant of seizure and detention against the boat and the cargo on board which will be disposed of pursuant to prevailing Customs laws, rules and regulations.
Meanwhile, the 10 crew members of the jungkung were turned over to the Sasa Police Station in Davao City for booking and filing of appropriate charges.
In a statement, Customs Commissioner Bienvenido Y. Rubio said the latest seizure reflects the BOC's unwavering commitment in combating illegal activities and ensuring the safety and security of our citizens.
On July 8, the BOC intercepted around PHP7.3 million worth of smuggled cigarettes in Zamboanga port.
"We will continue to work tirelessly to disrupt the illegal tobacco trade and protect our communities from its harmful effects," Rubio said. (PNA)