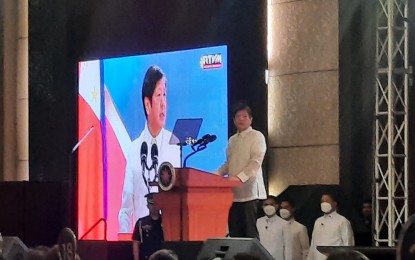 MANILA – The green lanes for strategic investments are now running in national government agencies (NGAs) and local government units (LGUs) where securing of licenses and permits for critical investment projects will be expedited.
President Ferdinand R. Marcos Jr. on Thursday led the launching of the Green Lanes for Strategic Investments, which is established through Executive Order No. 18 he signed in February 2023.
"The EO meant to expedite, streamline, and automate government approval and registration process of priority investments and strategic investments," Department of Trade and Industry (DTI) Secretary Alfredo Pascual said at the launching event in Pasay City.
Strategic investments are those in line with the Philippine Development Plan 2023-2028.
Pascual said these green lanes will help the country realize the PHP3.5 trillion in investment leads from the recent foreign trips of Marcos and his economic team in Singapore, Indonesia, the United States, Japan, China, Thailand and Europe.
"The establishment of these green lanes is meant to support the investment leads that we have been accumulating from our investment missions," he told reporters on the sidelines of the event.
Through the EO, a One-Stop-Action-Center for Strategic Investments (OSAC-SI) will be established at the Board of Investments (BOI), which will serve as the single point of entry for all projects qualified as Strategic Investments.
Pascual said these green lanes will also help the BOI to hit its PHP1.5 trillion target of investment approvals for 2023.
On the sidelines of the Makati Business Club event, Pascual said investors with projects considered as strategic investment should come to the BOI to get its Certificate of Endorsement to be presented to NGAs and LGUs to expedite the processing of their permits and licenses.
"That will be the basis for the LGUs to treat this expeditiously," he said, adding that this measure will complement the policies of the Anti-Red Tape Authority.
During the launching, the government also awarded the first EO 18 Certificate of Endorsement to SunAsia Energy, Inc. and Singapore-based BlueLeaf Energy for its 1,300 megawatts floating solar project in Laguna Lake worth USD1.2 billion.
In his speech, Marcos said his administration gives a priority on ease of doing business as the government listens to the concerns of the prospective investors.
"I am confident that the green lanes will pave the way for the realization of many investments," he said. (PNA)