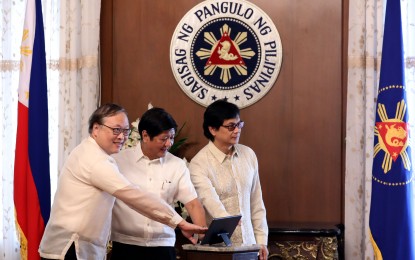 MANILA – President Ferdinand R. Marcos Jr. on Monday led the launch of two systems that aim to further digitalize government services.
Marcos was joined by officials of the Department of Information and Communications Technology (DICT) and the Department of the Interior and Local Government in the national launch of the Electronic Local Government Unit (eLGU) System and the People's Feedback Mechanism (eReport), which are vital components of the eGov PH Super App, a mobile application that integrates multi-sectoral government services into a single platform.
The systems support the government's mission to provide a one-stop-shop for its services.
"These programs mark a paradigm shift in the way that our government and citizens interact with one another. With the power of technology, we can break barriers and bridge gaps in ways that we have never been able to do before," Marcos said in his speech during the apps' launch at Malacañang Palace in Manila.
The eLGU covers a wide range of local government services such as business permit licensing, notice of violations, notification system, community tax, health certificates, local civil registry, business tax and real property tax.
"In partnership with ARTA (Anti-Red Tape Authority), this will complement our efforts in eliminating unnecessary layers of bureaucracy, as well as making government transactions easier and more efficient," Marcos said.
The eReport, on the other hand, is interoperable and linked with the Philippine National Police's iReport, which is a Crime Response Management System, and the Bureau of Fire Protection's Fire Response Management System.
These allow citizens to voice real-time reports through their mobile devices, such as but not limited to criminalities, fire incidents and other emergency situations.
"The report system will enhance the ability of the Philippine National Police and the Bureau of Fire Protection to better respond to the emergency needs of the public. I am optimistic that this system will be used to help curb criminality, lawlessness, and ensure immediate responses to various incidents around the country, thereby making our communities safer and more secure for everyone," Marcos said.
During his speech, Marcos noted the importance of digital revolution and its impact on society.
"We now live in a world where technology is occupying a vital and important part of our existence. Let us embrace it and see the good it can do for our society," he said.
Marcos urged all government agencies to collaborate with the DICT to integrate all services into the eGov PH super app. (PNA)