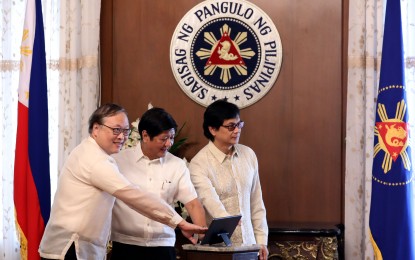 MANILA – Department of the Interior and Local Government (DILG) Secretary Benhur Abalos on Tuesday said the launching of two one-stop mobile applications -- the Electronic Local Government Unit (eLGU) System and the People's Feedback Mechanism (eReport) -- mark a paradigm shift in delivering public service towards building a more efficient, transparent and citizen-centered governance system under the administration of President Ferdinand R. Marcos Jr.
Abalos said the eLGU app is a step closer to realizing the vision of digitalization in the local governments while the eReport will serve as an avenue for people to report criminalities, fire incidents and emergencies.
The eLGU covers a wide range of local government services such as business permit licensing, notice of violations, notification system, community tax, health certificates, local civil registry, business tax and real property tax.
On the other hand, the eReport is interoperable and linked with the Philippine National Police's (PNP) iReport, which is a Crime Response Management System and the Bureau of Fire Protection's (BFP) Fire Response Management System. This allows citizens to voice real-time reports through their mobile devices.
"In line with the priority of (President) Ferdinand R. Marcos, Jr. on the realization of government processes to enhance economic competitiveness, we see the eLGU and eReport System as among the complete steps in realizing the strategies laid out in the Philippine Development Plan," Abalos said in a statement.
"By taking advantage of the new technologies, we open doors to boundless possibilities, promote transparency, and engage our communities towards more opportunities and progress," he added.
According to the DILG chief, local government units (LGUs) are now moving towards automation with 95 percent having established their Business One Stop Shops (BOSS); 86 percent compliant with national business process and licensing guidelines; 58 percent already implementing complete automation of computerization of BPLS (Business Permits and Licensing System); almost 37 percent with online applications; and 12 percent with online means of accepting payments.
The President on Monday led the launching of two systems that aims to further digitalize government services.
Marcos was joined by officials of the Department of Information and Communications Technology (DICT) and the DILG in the national launch of the eLGU System and the eReport, which are vital components of the eGov PH Super App, a mobile application that integrates multi-sectoral government services into a single platform.
The systems support the government's mission to provide a one-stop-shop for its services.
"These programs mark a paradigm shift in the way that our government and citizens interact with one another. With the power of technology, we can break barriers and bridge gaps in ways that we have never been able to do before," Marcos said in his speech during the apps' launch at Malacañang Palace in Manila.
Aside from Abalos, also present were PNP chief Gen. Benjamin C. Acorda Jr., BFP Director for Fire Safety and Enforcement Chief Superintendent Manuel G. Golino and officials from DILG, BFP, PNP, DICT and Anti-Red Tape Authority. (PNA)