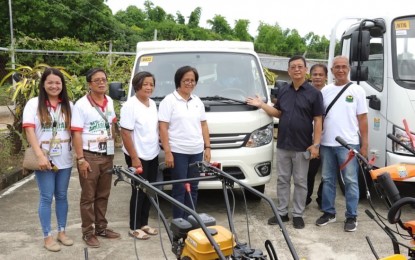 LAOAG CITY – At least 30 Agrarian Reform Beneficiary Organizations (ARBOs) in various parts of Ilocos Norte look forward to a bountiful harvest next cropping season with the latest distribution of farm machinery, equipment, and agricultural inputs, courtesy of the Department of Agrarian Reform (DAR).
Worth more than PHP16.5 million, the agriculture support consisted of 1,611 sacks of fertilizer, hauling trucks, a multi-purpose van, two units of four-wheel tractors, 16 water pumps, 11 knapsack sprayers, four brush cutters with harvesters, and six hand-tractors with trailer, among others.
The distribution of the farm machinery and equipment on Monday was part of the Sustainable and Resilient Agrarian Reform Communities (SuRE ARCs) project, a multi-faceted program that aims to increase agricultural productivity and the income of the ARBs in the country through the provision of various mechanization projects and support services.
As a beneficiary of a four-wheel tractor worth PHP1.4 million, the Carusikis Agrarian Reform Farmers Association, Inc. in Pasuquin town promised to take good care of the farm machinery to boost their productivity.
"We are so lucky and blessed in the province of Ilocos Norte for having leaders who think of the welfare of farmers. This is a big help for us," Rogelio Yagyagan, 48, a farmer-beneficiary from Vintar town, said in an interview on Tuesday.
On behalf of the farmers of Batac City, Mayor Albert D. Chua thanked the DAR and the national government for their strengthened commitment to supporting farming communities.
Along with the Quiling Sur Farmers Association, the Tabug Farmers Association, and the Camguidan Farmers Association, which received fertilizers and various farm equipment, the Camguidan Multi-Purpose Cooperative, known for its production of rice krispies, also received a brand-new multi-purpose van to help them transport their products to a wider market, thus, increasing their income.
Ilocos Norte 1st District Rep. Ferdinand Alexander Marcos expressed hope that after the term of the Marcos administration, given the enactment of the law condoning the debts of farmers in addition to the continuing distribution of common service facilities, local farmers and the agriculture sector would become self-sufficient.
"As your congressman, I will do everything to the best of my ability to support this vision of the president," he said during the distribution ceremony held at the Catuguing Farmers Cooperative compound in San Nicolas town. (PNA)