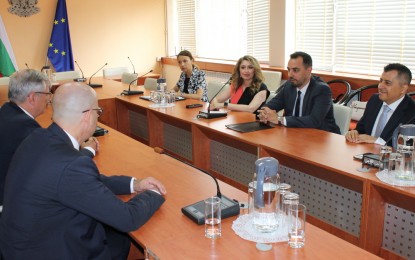 SOFIA, Bulgaria – A global manufacturer of critical hi-tech components for automotive and industrial applications will invest in new production facilities in Ruse, on the Danube, the Economy Ministry said.
Gebauer & Griller Group is headquartered in Vienna and will supply products to the Bavarian automotive industry.
The planned investment amounts to nearly BGN 60 million (EUR 29 million).
The jobs that the project is expected to create will reach around 400 over time.
The details about the project transpired during a meeting of Economy Minister Bogdan Bogdanov with Gebauer & Griller Vice President Matthias Hornemann and CEO Arno Haselhorst.
The meeting was also attended by Ruse Deputy Mayor for Economy and International Cooperation Zlatomira Stefanova, and Bulgaria's Trade Representative in Bavaria, Stefan Yonkov.
Minister Bogdanov stressed that the automotive industry is one of the fastest-growing sectors in the country and is among the priorities for attracting investments.
He pointed out that more than 90 percent of vehicles produced in Europe use critical components made in Bulgaria, with more and more companies shifting their production focus to electric vehicles.
The investor has decided to first build a 13,000 sq.m. plant in Ruse with the first-sod ceremony planned for 2023.
The completion of the new plant and the start of pre-mass production is planned for the summer of 2024, with the start of mass production scheduled for the summer of 2025, said Arno Haselhorst.
In the long term, they are planning an investment of EUR 29 million over the next 5 years, and a gradual increase in the number of direct employees to around 400 plus 100 to be employed in related industries.
Right from the start, the new plant will have a clear focus on products for well-established European car manufacturers.
The company plans to produce high-tech components for electric vehicles made in Bavaria.
Dr. Matthias Hornemann, Vice President of the company added that expansion into other segments is possible so as to use the market potential. (BTA)