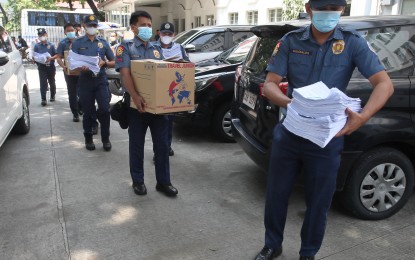 MANILA – The Philippine National Police (PNP)-Anti Cybercrime Group (ACG) on Wednesday formally filed 60 sworn statements in connection with the raid on a Philippine Offshore Gaming Operator (POGO) site in Las Piñas City last month.
Prosecutors gave the defense until Aug. 9 to file their counter affidavits.
Authorities claim the hub, which yielded 2,700 workers, including foreigners, was engaged in online investment scams, cryptoscams and love scams.
Lawyers insist the company and the legitimate workers all abide by the legal requirements, adding that all the documents covering the operations of the company had been in the vault seized during the raid on Xinchuang Network Technology Inc. in Barangay Almanza Uno.
Among those rescued include 604 Chinese, 183 Vietnamese, 137 Indonesians, 134 Malaysians, 81 Thais and 1,534 Filipinos.
Meanwhile, alarmed over the rise of criminal activities involving Philippine Offshore Gaming Operators (POGOs) and accredited service providers in various crimes, including human trafficking and kidnap-for-ransom, a lawmaker filed a resolution seeking to investigate POGO on Monday (July 17).
In filing Senate Resolution No. 679, Senator Sherwin Gatchalian said the increase in POGO-related crimes necessitates a close review of the country's POGO policies and assess whether the economic benefits still outweigh the social costs related to the incidents involving POGO companies and their accredited service providers.
According to Gatchalian, there is a dire need to take immediate action against the criminal incidents associated with POGOs, adding that failing to address these issues would not only greatly harm the people, but also constitute neglect of duty towards international treaties and conventions that the Philippines has signed or joined.
"The chief of the Philippine National Police even commented there is a possibility that there may be some more foreign fugitives employed in POGO-related operations with practice or modus operandi of hiding in POGO hubs," he said in his explanatory note.
Gatchalian noted that the entanglement of POGOs in crimes has remained unabated and there is a need to review the power of the Philippine Amusement and Gaming Corp. (PAGCOR) to regulate the industry as well as the capability of other law enforcement agencies to abate the commission of POGO-related crimes in the country.
Gatchalian also cited the raid conducted on June 26 on the premises of Xinchuang Network Technology, Inc. in Las Piñas City, which led to the rescue of 2,724 alleged victims of human trafficking, 1,524 of them are Filipinos.
He noted that Xinchuang has already been involved in December 2021 in a serious illegal detention case in Tambo, Parañaque City.
Another police raid was conducted at a POGO hub in Clark Sun Valley in Pampanga in early May, which resulted in the rescue of 1,090 human trafficking victims.
Additionally, on June 27, an entrapment operation was conducted, which led to the arrest of three Chinese nationals, several were former POGO employees, for their involvement in torture, kidnap-for-ransom, and illegal possession of firearms. (With a report from Leonel Abasola/PNA)