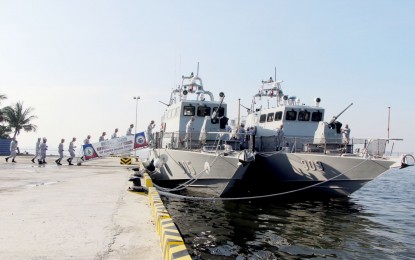 MANILA – The Philippine Fleet (PF) has deployed two newly commissioned fast attack interdiction platforms (FAICs) to boost its naval presence in Visayas and Mindanao waters.
In a statement Thursday, PF spokesperson Lt. Giovanni Badidles said the send-off rites for the BRP Gener Tinangag (PG-903) and BRP Domingo Deluana (PG-905) at the Naval Shipyard, Naval Station Pascual Ledesma in Fort San Felipe, Cavite City on Wednesday.
"These two new patrol gunboats are en route to the area of operations of the AFP (Armed Forces of the Philippines) Unified Commands in Visayas and in Western Mindanao," he added.
The FAICs in Philippine Navy (PN) service are also known as the Acero-class patrol gunboats and are based on Israel's Shaldag Mark V missile boats.
These FAICs were delivered to the country last April 11 and were commissioned last May 26.
The namesake of these vessels are both members of the Philippine Marine Corps and awardees of the Medal of Valor like the first two missile boats who were commissioned into service on November 2022.
These FAIC-Ms are the BRP Nestor Acero (PG-901) and BRP Lolinato To-Ong.
The PN has a nine-ship order with Israel Shipyards Limited.
Littoral Combat Force commander Commodore Carlo Lagasca, in the same statement, assured the readiness for deployment of these assets following the successful completion of their operational readiness evaluation.
"To all the personnel of PG-903 and PG-905, I admire you all for being ready and brave to be at the forefront against terrorism, insurgency, traditional threats, and maritime law violators," he added.
Badidles said the deployment of these brand-new assets will bolster the Navy's conduct of maritime patrol, internal security and logistics support operations.
"It likewise fulfills the Fleet's mission to deploy assets and personnel in support of the Unified Commands' respective areas of responsibility in the maritime waters of the Philippine archipelago," he added.
Four of the FAIC-Ms will be armed with non-line-of-sight (NLOS) missiles with pinpoint accuracy and a range of 25 kilometers while the other five will be armed with typhoon-mounted 30mm main cannons and .50-caliber heavy machine guns.
The acquisition of these FAIC-Ms is among the 2019 projects approved by former President Rodrigo Duterte under the Horizon 2 List of the AFP Modernization Program.
The notice of award for the FAIC-M project, worth around PHP10 billion, was issued on Jan. 5, 2021.
These are expected to replace PN's medium-sized patrol craft. Once deliveries of the FAIC-Ms are completed, these vessels can interdict surface threats and launch NLOS missiles safely using the surrounding littoral areas as maneuver space and cover.
Earlier, PN chief Vice Adm. Toribio Adaci Jr. said the Navy is planning to acquire at least 15 more Israel-made Shaldag Mark V missile boats.
He said the additional Acero-class gunboats would help them meet their requirements in "patrolling the seas of the country". (PNA)