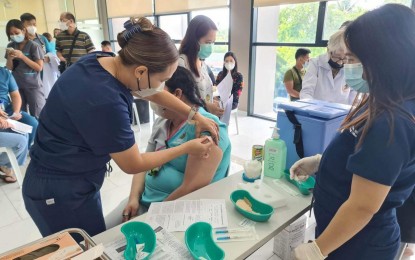 DUMAGUETE CITY – Over a thousand health workers in Negros Oriental are about to receive the Covid-19 bivalent booster dose after the Department of Health (DOH) sent an initial 300 vials of the vaccine this week.
Provincial Health Office (PHO) chief Dr. Liland Estacion said Thursday 40 health workers have already received the additional dose since the ceremonial activity held last Monday.
The bivalent vaccine has mRNA components and is specifically for protection against the Omicron variant of Covid-19, Estacion said.
"We have received 300 vials of the bivalent vaccine, which is equivalent to six doses each vial, or a total of 1,800 shots for the same number of individuals qualified to receive it," she told the Philippine News Agency (PNA).
Only health workers who have had their 2nd booster shot six months ago or earlier can receive the one-dose bivalent vaccine.
The A2 or senior citizens sector is also on the priority list of recipients although the PHO is still awaiting more bivalent vaccines.
Meanwhile, Negros Oriental Gov. Manuel "Chaco" Sagarbarria and 2nd District Rep. Manuel "Chikiting" Sagarbarria have promised to look for funds that would improve the province's health system.
They made the commitment on Wednesday during a DOH-led activity, elevating Negros Oriental Provincial Hospital (NOPH) into a level two hospital.
Estacion said this means the NOPH can now provide more medical and health services and acquire more equipment for specialized procedures.
A Level 2 hospital contains all elements of Level 1, as well as more facilities like an ICU for critically ill patients and specialist doctors for gynecology and pediatrics.
The province is given until the end of August to complete the requirements for the accreditation although it is now functioning as a second-level hospital.
Except for the Silliman University Medical Center, which is a 3rd level facility, NOPH and private hospitals like Holy Child, Ace, and Negros Polymedic, are all second-level. (PNA)