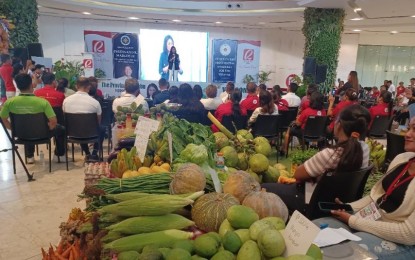 CEBU CITY – Cebu residents are assured of buying commodities at cheaper prices through the Kadiwa ng Pangulo, which will be aided by three anti-poverty projects of the provincial government, Governor Gwendolyn Garcia said on Thursday.
Garcia said the Kadiwa's objective of bringing cheaper food and non-food commodities to the people, even in the remote areas, would materialize with her plan to synchronize it with the ongoing "Serbisyo Caravan," as well as the existing "Sugbo Negosyo" and "Sugbusug" local anti-poverty projects in chosen towns of each district.
She said the province is tapping the National Food Authority in the next Serbisyo Caravan to execute the campaign promise of President Ferdinand R. Marcos Jr. to make the price of rice affordable for the poor.
The decision came as the Cebu version of Monday's nationwide launch of the Kadiwa ng Pangulo ended on Wednesday with the participation of 35 micro, small, and medium enterprises (MSMEs).
The MSMEs, especially those that are in the start-up stage of their business, thanked the national government for allowing them to display their agricultural and non-agricultural products during the three-day Kadiwa Festival at the Robinsons Galleria.
"I think it is high time that we have synchronized the programs of the regional offices of DA (Department of Agriculture), DTI (Department of Trade and Industry), through the Serbisyo Caravan and many others as we organized the women in Cebu for livelihood via selling cheaper rice all over the province," Garcia said.
Apart from rice, processed agriculture-based food and non-food items, are being sold to provide farmers and MSMEs a platform to introduce new products and sustain their marketing strategies through the Kadiwa pop-up stores.
"The Kadiwa ng Pangulo will not only serve as a program to ensure food security in the province of Cebu. It will improve the livelihood and income of the MSMEs participating in the program," she said. (PNA)