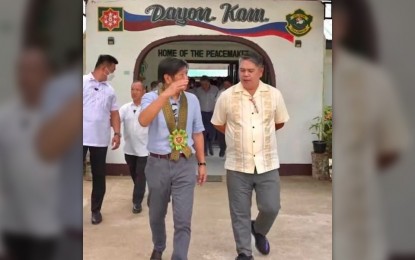 TACLOBAN CITY - The Northern Samar provincial government has thanked President Ferdinand Marcos Jr. for approving the PHP7.4 billion Samar Pacific Coastal Road (SPCR) 2 Project, days after the visit of the Chief Executive to the province.
In a statement Thursday, Governor Edwin Ongchuan said the President made the go-signal during the 7th National Economic Development Authority (NEDA) Board Meeting on July 19 in Malacañang.
"We express our gratitude to President Marcos for staying true to his commitment during his visit to the province on July 14, 2023. He assured us that he would approve the project, and we are pleased to announce that it has now received the ultimate endorsement from the NEDA Board," Ongchuan said.
During the inauguration on July 14 of the Samar Pacific Coastal Road 1 Project, also known as the Simora-Palapag road, Ongchuan requested President Marcos the implementation of the SPCR 2 Project, which he has long been pushing for.
The SPCR 2 Project is set to include the construction of a 800-meter bridge, named Laoang Bridge 2 that will connect Talisay village to Poblacion Laoang, as well as a 605-meter bridge known as Laoang Bridge 3, connecting Calomotan to Pangpang villages in Palapag.
Originally proposed by the late former Rep. Emil Ong, the project received endorsement from the RDC full council in June 2021 and was subsequently presented to the national government in September 2021.
"The successful implementation of the SPCR 2 Project will not only reduce travel time but will also significantly improve accessibility to goods and services. This will contribute to the economic growth of the province and enhance the overall quality of life for the people of Laoang and nearby communities," the governor said.
President Marcos on July 14 led the inauguration of the Korean-funded SPCR project phase 1 in Simora village in Palapag, Northern Samar. It was completed after five years of construction.
The PHP1.12 billion SPCR project phase 1 has opened and concreted 11.6-kilometers of road stretch, including three bridges. The project is funded by the South Korean government through the Export-Import Bank of Korea. (PNA)