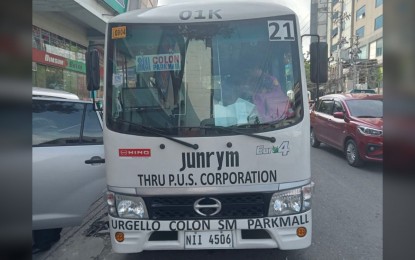 CEBU CITY – Transport operators in Central Visayas on Thursday assured commuters of undisrupted mass transportation next week, particularly on Monday when President Ferdinand R. Marcos Jr. delivers his second State of the Nation Address (SONA).
The different transport groups in Cebu expressed their opposition to the plan of Manibela transport group to stage a three-day transport strike from July 24 to 26 in protest of the government's Public Utility Vehicle Modernization Program.
In his letter to the Land Transportation Franchising and Regulatory Board Region 7 (LTFRB-7), Julie Flores, chair of the Cebu Provincial Operators Transport Cooperative (CPOTC), assured the agency they would not be joining the nationwide strike.
The cooperative, he added, expressed full support for the government's modernization program.
"The (CPOTC), a transport cooperative duly organized under the Cooperative Development Authority, would like to express its total support for the government's Public Utility Vehicle Modernization Program," Flores said.
The Cebu Alpha Omega Trans Corp., Kaluha Twin Trading and Services Corp. and Redlips 8 Transportation Corp. through their respective presidents, Jacquelyn Muldez, Leah Torrenueva, Virgilio Dayon, also assured the public there would be no crippling of mass transport services next week.
"We prioritize the welfare and convenience of our commuters and the Filipino people whom we serve. We recognize the vital role that public transportation plays in the daily lives of countless individuals, connecting communities and facilitating economic activities," Torrenueva said in a statement.
Torrenueva's group attached the signatures of 79 operators and drivers who opposed the transport strike.
Solidarity with commuters
The Federation of Cebu Transport Cooperatives (FCTC) said the organization is in solidarity with the commuters and does not condone any form of transport disruption that would affect the productivity of the commuters.
The 16 officers of nine transport cooperatives under FCTC signed their manifesto.
"We join hands with the government on standing against any form of transport strike that will do more harm than good. All units under our corporation will be on the streets to provide public transportation services to our fellow Cebuanos in the northern towns of Cebu," a statement from Cebu Sebastian Liner Corp. said.
The Danao Shuttle Multi-Purpose Cooperative also sent a letter to LTFRB-7 stating their policy against transport strikes.
LTFRB-7 Regional Director Eduardo Montealto Jr., for his part, commended the transport groups for their "unanimous stance" against the transport strike.
"It's a valid form of freedom of expression. However, this hostile choice of expression immensely affects and burdens the lives of ordinary people who rely on public transportation for their daily commute. The good people in Central Visayas won't allow any form of economic disruptions," Montealto told the Philippine News Agency in an interview. (PNA)