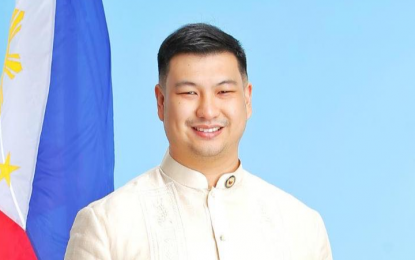 MANILA – A House leader on Thursday said Congress would do its part to ensure transparency and accountability in the handling of the Philippines' first sovereign wealth fund.
House deputy majority leader Alfred Delos Santos said the newly enacted Maharlika Investment Fund (MIF) Act of 2023 is a significant step towards the progress and strengthening of key sectors, as it provides an "additional vehicle" to optimize the government surplus.
Delos Santos, representative of the Ang Probinsyano party-list, said the MIF will significantly expand the country's fiscal space and alleviate pressures in financing public infrastructure projects, noting that the usual funding sources are from Public-Private Partnership (PPP) or Official Development Assistance (ODA) mechanisms.
"As committed by President Marcos, we in Congress will do our part to ensure the proper policies and mechanisms are in place to ensure that these funds are utilized in a fair, transparent, and accountable manner," he said.
He also said infrastructure projects will be implemented with utmost efficiency, addressing the needs and development of the people.
Quezon Rep. Reynante Arrogancia, for his part, said the newly signed sovereign fund law "gives foreign and local investors an added option on how to make their investible funds earn."
"This (sovereign fund) becomes one among many options and caters to specific types of clientele or kinds of investors, depending on the appetite for earnings and risks," Arrogancia said.
He said the MIF is crucial to attracting foreign direct investments (FDIs) because these "are investments that actually happen on the ground, build businesses, grow the environment for other businesses, whether downstream, upstream and lateral enterprises and most importantly, create jobs."
"The Maharlika Fund combined with attracting foreign direct investments is a potent combination. Bringing in FDI means ease of doing business, infrastructure, transparency, integrity in business, and economic policies that make workers, investors, and host communities welcome and interact harmoniously," he added.
Speaker Martin Romualdez on Wednesday said President Ferdinand R. Marcos Jr.'s decision to insulate the management of the MIF from politics is a prudent move that augurs well for the success of the country's first-ever sovereign wealth fund.
On Tuesday, Marcos bared that he rejected proposals for him or the Secretary of Finance to chair the MIF, saying it must be run by competent and independent financial managers to avoid political interference.
Under Republic Act 11954 or the Act Establishing the MIF, which the President signed into law Tuesday, the Secretary of Finance is merely ex-officio chairperson and will not run the Fund. It will be governed by the nine-member Maharlika Investment Corporation (MIC) chaired by an Independent Director.
The MIF would be used to invest in a wide range of assets, including foreign currencies, fixed-income instruments, domestic and foreign corporate bonds, joint ventures, mergers and acquisitions, real estate, and high-impact infrastructure projects for the attainment of sustainable development, according the new law.
RA 11954 also establishes the MIC, which will serve as the investment body responsible for the overall governance and management of the MIF.
The MIC is expected to have at least PHP75 billion in paid-up capital this year, with PHP50 billion sourced from Landbank and PHP25 billion from Development Bank of the Philippines. (PNA)