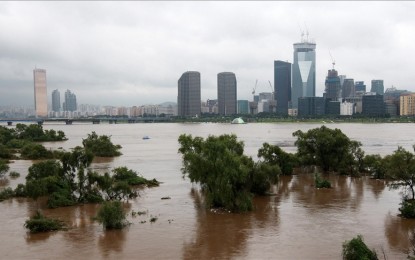 ANKARA – Nearly 50 people were killed and thousands were displaced as week-long heavy rains and floods caused massive damage to properties across South Korea, authorities said.
According to details released by the Central Disaster and Safety Countermeasure Headquarters on Thursday, some 2,278 public and private properties were damaged across the nation during the ongoing rains and floods that hit the country last week, Seoul-based Yonhap News reported.
So far, 33,000 hectares (81,545 acres) of farmland had been flooded while 797,000 livestock had been killed.
The torrential rains and floods also left 46 people dead while four people are missing in different parts of the country, including a Marine who lost his life on Wednesday after being swept away by flood during search and rescue operations in Yecheon County, 161 kilometers (100 miles) southeast of Seoul.
Over 3,100 people displaced across the country are still living in shelter camps, according to the report.
Prime Minister Han Duck-soo on Thursday visited the North Chungcheong Province where at least 14 people lost their lives in the central city of Cheongju when a nearby river overflowed after an embankment was brought down by rising water levels.
"I feel heavy responsibility for the regrettable deaths," the agency quoted Han as saying.
The government has also deployed some 10,000 troops across the country for search and rescue operations to help the local administration where rains caused floods and landslides. (Anadolu)