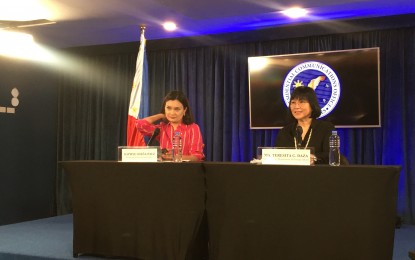 MANILA – President Ferdinand R. Marcos Jr. will push for the advancement of agriculture, tourism, and digital economic cooperation between Manila and Kuala Lumpur during his state visit to Malaysia on July 25 to 27, the Department of Foreign Affairs (DFA) said Friday.
"He (Marcos) will pursue bilateral cooperation in priority areas that are at least in support of the economic agenda of the country. And that will include, agriculture, food security, tourism, digital economy," DFA spokesperson Ma. Teresita Daza said in a Palace briefing.
"But there will be new areas that will be explored and this will include the halal industry and Islamic banking," she added.
Marcos is expected to have a royal audience with Malaysian King Sultan Abdullah Sultan Ahmad Shah and a bilateral meeting with Malaysian Prime Minister Anwar Ibrahim to identify new areas of synergy and strengthen people-to-people exchanges between the two countries.
Daza said Marcos would also meet with Malaysian business leaders to attract more investments.
"With the meeting with key Malaysia businessmen, this will hopefully generate investment pledges from Malaysian companies," she said. "As expected, the Philippines will actively promote the Philippines as an attractive trade, investment and tourist destination."
Daza added that the Maharlika Investment Fund (MIF), the country's first-ever sovereign wealth fund, "maybe raised and promoted" during Marcos' state visit to Malaysia.
Marcos will be accompanied by First Lady Louise Araneta-Marcos, key Cabinet officials, including Foreign Affairs Secretary Enrique Manalo and the country's economic team, and a business delegation, she said.
Marcos would also meet with the Filipino community residing and working in Kuala Lumpur, Daza said.
"It's safe to assume that the programs of the government relative to the welfare, the promotion of the welfare of our migrant workers will be raised," she said.
Malaysia, meanwhile, sees this trip as an avenue to further solidify the dynamic and already good relations between the two states.
Malaysian Ambassador Dato' Abdul Malik Melvin Castelino bin Anthony said Kuala Lumpur hopes to explore new areas of cooperation with Manila and bring the bilateral ties to greater heights.
"We hope to touch on new areas of cooperation and further intensify areas that we think there is potential for both countries. The prime minister of Malaysia is looking forward to the visit," he told reporters in an interview.
"We hope this visit will further bring the importance of relationship between Malaysia and Philippines to greater heights," he added.
The meetings, he said, will build on engagements on trade and development, Halal industry, and people-to-people relationship, among others.
"Obviously, all issues are important because we are neighbors. Besides areas of trade cooperation, investments, education, culture, basically the areas of maritime security, defense cooperation we'll be discussing. It's a part and parcel of the relations between countries in the ASEAN (Association of Southeast Asian Nations)," he said.
Malaysia is ranked as the Philippines' 10th trading partner and 22nd source of approved investments in 2022.
It also ranks 20th in terms of source of tourist arrivals in 2023. (PNA)