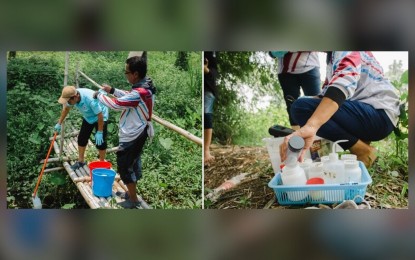 LAUREL, Batangas – Environmental agencies have found higher-than-desired levels of contaminants in water samples taken from the Tabanga River in Barangay Poblacion here, one of the tributaries flowing into Taal Lake.
"We are conducting water quality monitoring of the tributaries of Taal Lake because it is part of the TVPL (Taal Volcano Protective Landscape) Management Plan and at the same time, we can also assess the current status of the water quality of the rivers," Gina Medanilla, senior environmental management specialist of the Provincial Government Environment and Natural Resources Office (PGENRO), said in an interview on Saturday.
Medanilla said a technical team from the PGENRO and the Department of Environment and Natural Resources - Protected Area Management Office took water samples from the mid-stream section of the Tabanga River and measured its levels of suspended solids, oil and grease, fecal coliform count, and heavy metals in the water.
She noted that tests showed "high" scores in two of the parameters – the fecal coliform count, which is the result of human and animal wastes, and phosphate analysis.
The other parameters showed normal levels.
The team, she said, has completed its monitoring of the waters "from Tanauan City, some parts of Laurel, and Pansipit River will be next."
In a text message to the Philippine News Agency (PNA), Governor Hermilando Mandanas said his administration prioritizes water conservation programs and has launched various initiatives to ensure the protection of the environment despite industrialization.
"Everything regarding the environment is important, especially those (matters) that relate to Taal Lake," he said.
The provincial government said residents here have been calling for dredging operations in some parts of Taal Lake to prevent an upswell in water flowing through the town during the rainy season and typhoons. (PNA)