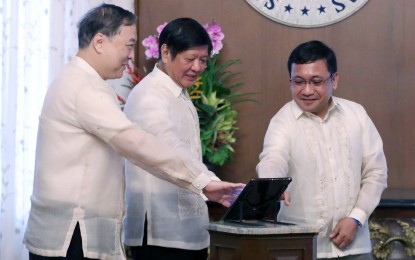 MANILA – The Department of Information and Communications Technology (DICT) needs all hands on deck in improving governance trough digitalization.
The E-Governance Act or House Bill No. 7327, a consolidation of 21 related measures, was highlighted by President Ferdinand R. Marcos Jr. as one of his priority measures in his first State of the Nation Address (SONA) last year.
The bill was approved by the House of Representatives on March 6.
Marcos' marching order was to "accelerate the buildup of digital infrastructure in the country," that through information and communications technology, Filipinos have a better and efficient government that is easier to transact with.
During his presentation at the "A Year After Build Better More" event of the British Chamber of Commerce–Philippines on July 13, DICT chief of staff for the Office of E-Government TR Mon Gutierrez gave an update on the six priority projects of the DICT under e-governance -- eLGU, eTravel, eGovPay, eGovCloud, eReport, and eGov PH app.
The eLGU is a one-stop system that combines all local government unit (LGU) services such as business permit licensing, notice of violations, a notification system, community tax, health certificates, local civil registry, business tax, and real property tax.
"Its objective is to provide Filipinos with a comprehensive online platform that serves as a centralized hub for LGU system automation and e-services, offering a diverse array of services. This platform is designed to streamline the process of doing business, ensuring convenience and efficiency," Gutierrez said.
To date, about 210 LGUs have already implemented the Business Permits and Licensing System (BPLS) under eLGU, 450 have ongoing implementation, and 82 have requested for its implementation.
On the other hand, the eTravel system is a one-stop electronic travel declaration system available in 10 international airports and five international seaports. It has so far served around 7.3 million passengers.
With eTravel, he said passengers would need only need to complete their declaration in a single app versus having to fill up multiple documents in the past such as the arrival card, local airport or seaport forms, tourism form, customs form, and the health declaration form when travel restrictions were at its peak due to the Covid-19 pandemic.
Meanwhile, the eGovPay is a secured one-stop government payment gateway available for users of digital payment systems such as online and typical banks, e-wallets, ecards, cash payment systems, and kiosks.
"eGovPay helps government simplify payment processing. It reduces cost while enhancing customer experience and makes it easier to reconcile transactions due to improved data management as it supports a broad range of payment methods," Gutierrez said.
The service, he said, would provide easy integration, automated reports, transparency, and reduced costs.
The eGovCloud, Gutierrez said, is the government's cloud-first policy that promotes cloud computing as the preferred technology for government administration and the delivery of government services.
Instead of government agencies having to use multiple data centers, they will instead have access to a centralized cloud system that is standardized, cost-effective, secure, efficient, compliant, and will allow for better decision-making.
The eReport, or the People's Feedback Mechanism mobile app, allows the public to file a report or feedback to the government.
The app allows users to choose from eight categories -- red tape, overpricing, child abuse, women abuse, accident, fire, crime, scam, and other concerns.
Following Marcos' approval in April, the DICT began work on a single operating system that aims to address current challenges in government services such as excessive forms and documents, costly, multiple and complex websites, time-consuming, and long lines.
From 2024 to 2026, it would include other systems such as eTourism, eBusiness, eHealth, eCommerce, eServices, eApostille, eFinance, eLearning, ePassport, and eTransport.
To date, the culmination of the single operating system is the eGov PH app, a mobile app that allows the public to access government services and information and is available from the Apple Store and Google Play Store.
The app is the Philippines' first one-stop-shop platform for local and national government services that will streamline processes, transactions, and bring a total ease of doing business. (PNA)